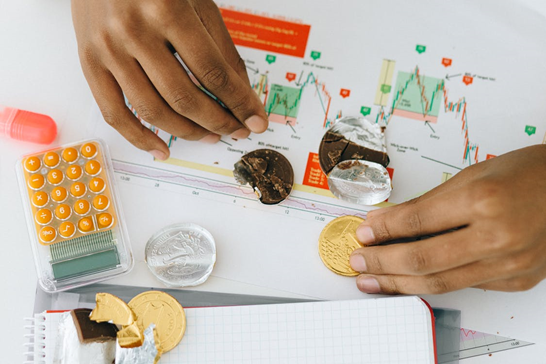 Source: Pexels
Forex trading is on the up across Africa. Figures from the last year suggest that a high number of beginner traders are signing up to try out trades on the foreign exchange market. This is also true for Zimbabwe which, due in part to hyperinflation, is experiencing plenty of interest from those wanting to make money in the currency sector.
Hyperinflation
Zimbabwe's fluctuating inflation rate has been an issue for many years. In 2008, it reached an all-time high of 1,000,000% before dropping down to a still high, but lower rate of 787% in 2020. While analysts predict it should remain around the same rate for the next few years, no one can really be sure.
Following the unprecedented hyperinflation in the country, the use of foreign currencies became more popular. Despite the government saying it wasn't allowed, several shops were licensed to exchange and deal in different currencies. As local tender became almost worthless, people looked to transact in US dollars instead. The use of foreign currency also became wider amongst non-licensed entities including businesses and even street vendors.
The forex market
Source: Pexels
This necessity for people to use the foreign exchange market also led to an interest in using it for trading purposes. People began to enjoy trading different currencies at different times, hoping to make a profit. Typically, people with an interest in FX trading will seek out a platform, open an account, and decide on the positions they will take with certain currencies. Providers like Infinox have simplified this process for new traders, and have become established entities in the forex scene for those seeking a reliable trading service.
Traders will then follow the news including financial, social, and political, to help them make the most profitable trades. But there are other ways of getting educated on forex trading.
Wellington Mafuta
For budding traders in Zimbabwe, Wellington Mafuta is a household name. Well known for his masterclasses in trading forex, he is often the first port of call for many beginner traders. He has offered daily classes through WhatsApp, YouTube, and social media, and says he has helped over 2000 traders in the past five years.
He offers free classes, paid classes, tutorials, texts, reading materials and provides question and answer sessions. This is a great way for young and old Zimbabweans to learn.
How to learn about Forex
Asides from people like Wellington, the best place to learn more about Forex is through monitoring the news. This can provide you with valuable insights into what's happening in various economies that could impact the markets. You can also find a variety of forex influencers on YouTube, LinkedIn, Facebook, and Instagram that can provide you insights into the current and future state of the market.
With no end to hyperinflation insight, it seems the trend of forex trading is set to continue in Zimbabwe. Beginner and casual traders should always ensure they inform themselves as much as possible before making any trades. Thankfully, there are plenty of ways to do this both for free and with paid tutors. Increased access to mobiles and the internet will further support this growth and it's likely we'll see forex becoming even more popular over the next few years.