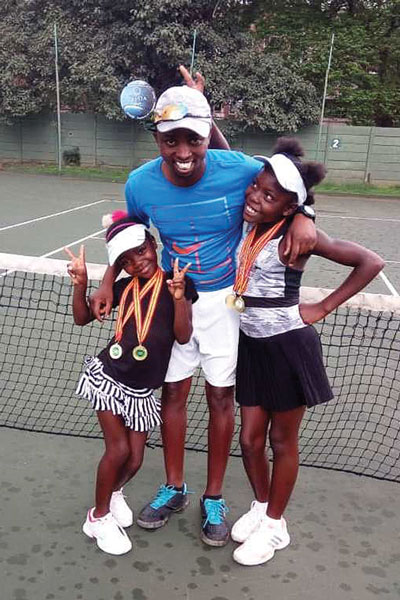 BY FORTUNE MBELE
JUNIOR tennis ace Kudzai Chapepa is leading three other players to Bloemfontein, South Africa, for the Growth Point Super 8 tournament set for today and ends on Wednesday.
Kudzai travelled with her sister Kuzivaishe, Tanaka Mhlanga and Zanenkosi Nkomo.
The quartet trains at GAP Sports Consultancy at the Bulawayo Athletic Club under coach Thesly Mufunda.
Kudzai (12), seeded number seven in the competition, will be taking part in the Under-14 category, together with Nkomo, who is not seeded, playing in the same age category in the boys' section.
Her sister Kuzivaishe is seeded eighth in the tournament and competes with Mhlanga in the Under-12 age group.
Mufunda reckons that the competition would be good for the players to keep in shape and expose them to competition in South Africa.
"The whole idea of these tournaments is to get more matchplay. We did not have as many matches because of the (COVID-19) lockdowns. Tennis Zimbabwe has started having matches, which is good, but coming this side is also part of the plan of getting more match play and also looking at the quality of players.
"We do have quality players in Zimbabwe, but here (in Bloemfontein) there is a larger pool of players. The boys' Under-14 has a draw of 128 which is like a Grand Slam draw. We are looking at a child playing six to seven games in the five days and five games in the doubles that is about 13 games in a week," Mufunda said.
He said it was good for the players as they wait for Central African Tennis to resume.
Kudzai and Kuzivaishe have done well in South Africa where they are ranked highly in their respective age groups.
The Chapepa sisters made a clean sweep in February at the MP KPM Academy in Middleburg, Mpumalanga in South Africa winning both the singles and doubles events in their age groups. Kudzai partnered South African Sphesihle Maphalala in the doubles while Kuzivaishe teamed up with Cameroon Watts.
Follow Fortune on Twitter @FortuneMbele