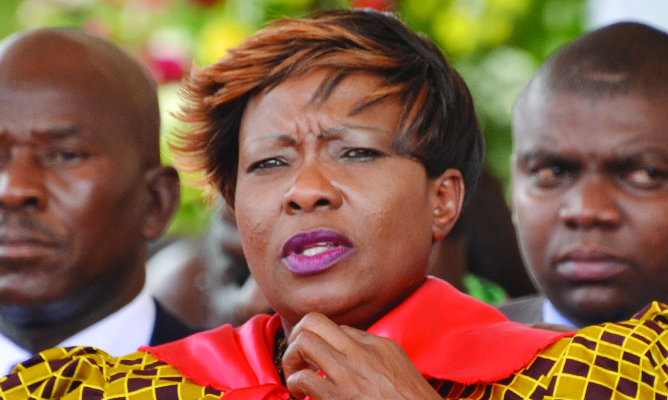 BY EVANS MATHANDA
FIRST ladies and wives of vice-presidents should move out of their comfort zones and start fighting for the rights of women so that they don't become victims of abuse after their marriages have collapsed.
Women's rights group, Institute for Young Women's Development gave the example of Marry Mubaiwa, who is facing charges of allegedly trying to murder her husband, Vice-President Constantino Chiwenga, but whose treatment by the State has led to accusations of domestic abuse and abuse of State resources.
Mubaiwa, who has been in and out of court, is also facing allegations of money laundering and she is being denied access to her children despite a court ruling that she should.
IYWD founding director Glanis Changachirere told NewsDay said there was a need for increased women participation in politics for gender responsive social services delivery at all levels.
"We expect women like (First Lady) Auxillia Mnangagwa and all women occupying high positions to put politics aside and deal with issues affecting women in our present-day Zimbabwe because patriarchal ideologies have no status," Changachirere said on the sidelines of a workshop titled Quarterly Budget Tracking and Monitoring in Harare yesterday.
"Power is not permanent, former First Lady Grace Mugabe and Mubaiwa should have been advocating for women's rights than seek public sympathy after they have been offloaded from the oppressing system. You might enjoy the system during your time but tables will turn one day."
She said first ladies should be the mouthpiece of all women in the country despite political differences while civil society organisations would be there to complement their efforts.
"Inasmuch as we speak on behalf of women, we have limits and we expect women in power to initiate programmes that protect women's rights despite the prevailing circumstances in our Zimbabwean society. We are all women; politics should not be a barrier in our fight for women's rights. Women's rights are also human rights," she said.
Changachirere also said the role of the Zanu PF women's league should be to change perceptions that view African women as subservient to men.
"There are controversial issues like that of (detained MDC Alliance legislator) Joanah Mamombe, if they are indeed guilty, they should be jailed but if there is no evidence of crime,  they must be granted bail because laws should apply to everyone without fear or favour. Justice delayed is justice denied," she added.
Follow Evans on Twitter @EvansMathanda19