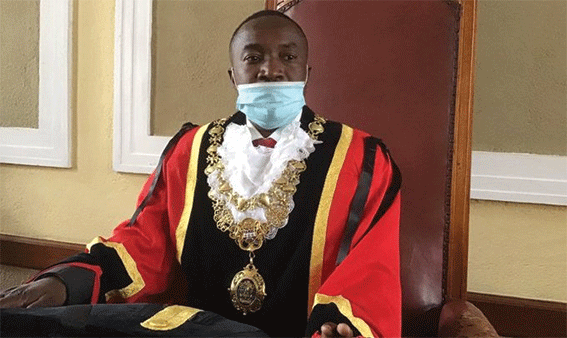 HARARE mayor Jacob Mafume was yesterday granted $30 000 bail when he appeared before High Court judge Justice Benjamin Chikowero on allegations of criminal abuse of office.
BY MIRIAM MANGWAYA
He was ordered to reside at his given address, to surrender his passport and not to interfere with two witnesses that are former council employees, Admore Nhekairo and Edgar Nhewonye.
Mafume spent two weeks behind bars after he was arrested by the Special Anti-Corruption Unit for allegedly parcelling out stands to his sister Rotina Mafume and a secretary at his law firm Rutendo Muvuti without following due process.
Mafume appealed to the High Court after he was denied bail by magistrate Bianca Makwande who said he was likely to interfere with witnesses. Justice Chikowero ruled that Makwande had misdirected herself by denying Mafume bail.
The State alleged that in March this year, Mafume allegedly called housing director Nhekairo instructing him to allocate stands to Rotina and Muvuti valued at $219 938. Meanwhile in another case, Harare director of human capital Cainos Chingombe was denied bail on alleged abuse of office charges by Harare magistrate Marehwanazvo Gofa.
Chingombe was arrested on Saturday, 48 hours after he had been released on the same charges by Gofa.
The State, led by prosecutor Lancelot Mutsokoti alleges that Chingombe circumvented council's due process on procurement to speed up purchasing of his personal vehicle.
The State opposed bail arguing that the Zimbabwean borders were porous such that even without a passport, Chingombe would cross to Zambia to abscond trial and also intimidate witnesses.
In his application for bail, Chingombe, who was represented by lawyer Lovemore Madhuku, admitted yesterday in court that indeed $130 000 was transferred to his personal account for the procurement of his motor vehicle where he paid $119 000 for it, and used $5 000 to pay for its insurance.
He said he was entitled to the benefits.
Chingombe was remanded to December 21, 2020.