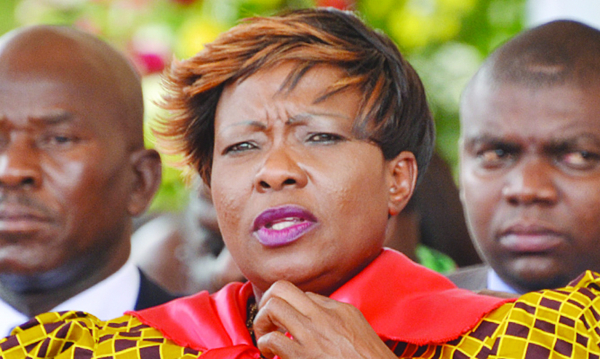 BY RICHARD MUPONDE
ANALYSTS yesterday accused First Lady Auxillia Mnangagwa of arm-twisting the police to issue a statement exonerating her and son, Collins from the Henrietta Rushwaya's gold smuggling saga.
The First Lady and her son were fingered by Rushwaya's accomplice Gift Karanda (44) as owners of the 6kg gold which was intercepted at the Robert Gabriel Mugabe International Airport last Monday while being smuggled to Dubai.
But on Sunday, she challenged the police to prove that she and her son were involved, adding that she was innocent.
Karanda had told detectives at the airport that the gold Rushwaya was carrying "belonged to the First Lady and Collins, who was supposed to have brought it, but due to other commitments had requested Rushwaya to transport it on his behalf".
However, analysts have said the First Lady used her political muscle to force the police to exonerate her.
Political analyst Ibbo Mandaza said the issue left a lot of questions about the First Lady and her son since the statement was sub judice, adding that it all pointed to arm-twisting.
"It's all arm-twisting and leaves a lot of questions in the public opinion. I think any person should leave the court process to go on to prove whether that guy (Karanda) was lying or not. The issue was awash on social media (sic). Actions by the First Family leave a lot of questions. We can understand the position of the police, but it doesn't augur well for the First Family to make such a sub judicial statement," Mandaza said.
Another analyst, Alexander Rusero said Zimbabwe was being ruled by law as opposed to rule of law.
"Rule by law is where the powerful will never be implicated. In such circumstances, someone always have to be arrested, fired or even jailed on behalf of the powerful elite. This case in point is a clear illustration of what is at play as much as the rule of law in Zimbabwe is concerned," Rusero said.
Collins has previously been linked to a US$60 million COVID-19 procurement scandal involving the former Health minister Obadiah Moyo who was arrested alongside Drax International representative Delish Nguwaya. Both are out on bail. Follow Richard on Twitter @muponderichard