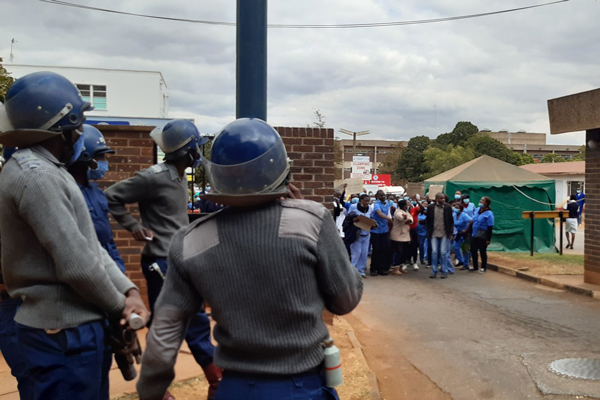 GOVERNMENT yesterday raised salaries of its restive workers by 50% and awarded them a non-taxable monthly allowance of US$75 as nurses at public hospitals picketed in the morning protesting poor salaries.
By Precious Chida/Vanessa Gonye, Blessed Mhlanga/Fidelity Mhlanga
According to the new salary structure, pensioners will also get a monthly COVID-19 allowance of US$30.
Soaring inflation, at 785,5% in May, and the falling value of the local currency have severely reduced the purchasing power of workers' salaries, prompting the nurses to demand US dollar salaries.
They said high inflation was rendering their salaries and savings worthless after the government brought back the Zimbabwe dollar in June last year.
Treasury said the move to adjust salaries was motivated by "commitment to continuously review and improve the remuneration framework for civil servants, taking into account the transitory economic challenges being currently experienced in the country, which have been exacerbated by the COVID-19 pandemic."
"With immediate effect, all civil servants' salaries will be adjusted upwards by 50%. This increase also applies to all government pensions. In addition, all civil servants will be paid a flat, non-taxable COVID-19 allowance of US$75 per month."
The Zimdollar is pegged at 25 to the US dollar but trades at 90 on the black market. Businesses in the southern African country base their prices on the black market rate. Civil servants are paid an average of $3 000 a month, an equivalent of US$33 on the current black market rate.
Treasury urged civil servants and pensioners to immediately open US$-denominated nostro bank accounts in order to smoothen the payment process, but they will be allowed to redeem the funds at the interbank market rate.
The latest commitment to pay civil servants an "allowance" in hard currency is a damascene moment by government and is also another indicator of policy inconsistency rife in Zimbabwe.
Nurses began their protest despite concerns about the impact on Zimbabwe's fight against the COVID-19 pandemic, which has infected 401 people and killed four in the southern African country.
Anti-riot police yesterday blocked the entrance to Parirenyatwa Hospital in Harare as hundreds of nurses picketed inside.
Some of the nurses held placards which read Should we go into prostitution to pay rent?" and My body is tired, I am struggling.
"Nurses now want US dollar salaries. They want money that has purchasing power," Zimbabwe Nurses Association secretary-general Enock Dongo said.
The government last week said it would soon start salary negotiations with workers, but indicated that it could not pay their wages in US dollars.
Dongo said the least-paid nurses were earning a net monthly salary of $2 000 and warned that the boycott could continue beyond Wednesday and spread to other hospitals.
Zimbabwe appears to be in a fragile state after government took an unusual step of debunking rumours of a coup against President Emmerson Mnangagwa. Mnangagwa himself came to power after a coup in November 2017, ending the 37-year reign of the late former President Robert Mugabe.
Additional reporting by Reuters