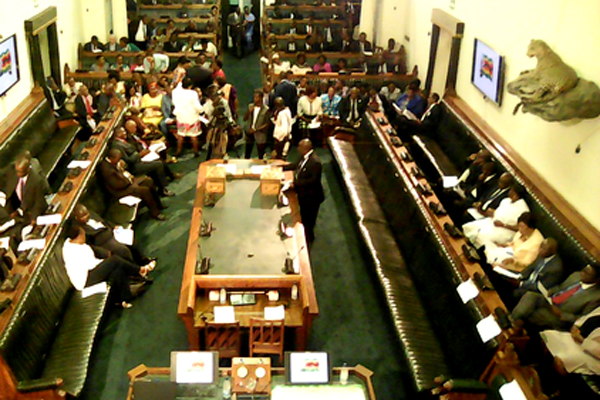 Clerk of Parliament Kennedy Chokuda has summoned MDC Alliance senators to appear before a Privileges Committee to face disciplinary action for heckling President Emmerson Mnangagwa in the august House.
BY VENERANDA LANGA
This came as Senate yesterday upheld regulations to penalise errant MPs.
The enquiry follows several embarrassing incidents where Mnangagwa was heckled by opposition legislators during the official opening of the first and second session of the Ninth Parliament and state of the nation addresses.
The opposition MPs also refused to stand up for him.
The opposition MPs also mocked Mnangagwa through song and walked out on him, claiming they did not recognise him as President, accusing him of stealing the 2018 presidential vote.
"You are hereby invited to appear personally before the Privileges Committee that is investigating allegations of misconduct levelled against you in committee room number four, fifth floor, Parliament building on Tuesday, June 16 2020 at 10am in the morning," read one of the letters given to an MDC Alliance senator by Chokuda.
"You were advised of the charges levelled against you and others in our earlier communication dated Wednesday, February 12, 2020. Be advised that you are permitted to be represented by legal counsel who should be robed in terms of Select Committee rule number 13."
In a related development, Senate yesterday passed new amendments to Parliament Standing Rules and Orders that will protect the President from being yodelled and mocked by MPs whenever he comes to Parliament to present a speech.
Justice minister Ziyambi Ziyambi tabled the new amendments to Standing Order 79(d) and Standing Order 111 which bars mocking the President in the House.
Opposition senators described the amendments as dictatorial and aimed at depriving MPs freedom of expression in the House.
Midlands senator Morgen Komichi (MDC Alliance) said: "The stringent amendments to bar MPs from singing will imprison senators and take away their freedoms.
"Singing is just expressing feelings and the President should instead look into the issues why people are singing and raising issues," Komichi said.
"MPs must be allowed to sing in Parliament as long as these are not insults. Forty years after the liberation war, we should have democracy and tolerance of opposing views."
Harare Metropolitan senator Theresa Makone (MDC Alliance) said Parliament already had standing rules and orders, strengthening the rules was only a show of dictatorship.
"Now, MPs are being called to appear before a Privileges Committee to silence them. I remember before independence, there was a fight in Parliament and an MP was arrested and jailed in Bindura," Makone said.
Zanu PF senators quashed the opposition, with Masvingo senator Josaya Hungwe (Zanu PF), saying that the opposition could not teach Zanu PF democracy.
Matabeleland South Senator Tambudzani Mohadi (Zanu PF) added: "Democracy does not mean you do whatever you want by mocking and insulting the President."
Other Zanu PF senators said the MDC Alliance legislators should sing at their political rallies.
Ziyambi said after an election, the President must deliver a speech in Parliament and for him to do so; there was need for a quorum. He said some MPs were not respecting that and failed to stand up for the President whenever he entered Parliament.
"It is not a fundamental human right not to respect a sitting President and these amendments are progressive."
Ziyambi said Standing Order 111 which dealt with disorderly conduct in the House would be maintained as it gives the Senate president powers to control the House.
But he said Standing Order number 79(d) which barred singing would be deleted as Standing Order 111 adequately dealt with disorderly conduct by MPs, including singing in Parliament.