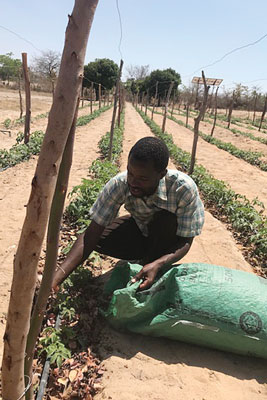 By Everson Mushava
SMALLHOLDER farmers in Makoni, Mutasa and Mutare districts in Manicaland province are enjoying improved food and nutrition security following the intervention of a non-governmental organisation (NGO), Practical Action that is spearheading farming projects aimed at making the communities self-sustained.
Over 8 000 families to date have ventured in various farming projects that include goat and chicken rearing; beans, vegetable and tomato production; pig, fish and cattle farming, among other projects that have transformed lives in the province.
The projects are being run under the NGO's Zimbabwe Livelihoods and Food Security Programme (LFSP) which is part of the Improved Nutrition and Sustainable Production for increased Resilience Economic growth (INSPIRE).
The project is funded by United Kingdom's Department for International Development (DFID) and managed by Food and Agriculture Organisation under the United Nations, with Practical Action as the implementing partner.
Practical Action spokesperson Innocent Katsande said the smallholder farming projects aimed to contribute to poverty reduction through increased incomes.
"Increasing the capacity of smallholder farmers to produce food, building their resilience against climate shocks and disasters such as drought and flooding is key to ensure national food security and nutrition," Katsande told NewsDay during a tour of the projects last week.
"Our work under the LFSP project is aimed at raising smallholder farm productivity through promoting improved and climate appropriate agricultural practices, enabling access to finance and promoting the production and consumption of safe and more nutritious food.
"Our work under INSPIRE a component of the LFSP project in Manicaland is raising smallholder farmers' incomes by linking them to profitable commercial markets. Promoting business models that promote gender and social equity in markets as well as promoting local level entrepreneurs for local economic growth".
According to Katsande, the INSPIRE, a consortium made up of Practical Action, ICRISAT and Sustainable Agriculture Technology, has a mandate to benefit 80 00 households by September 2020.
The LFSP programme includes extension and advisory services, rural finance, policy support, bio-fortification and nutrition and market development. Gender and youth are mainstreamed across all programme components.
Most of the projects toured by NewsDay started off around 2017 as cooperatives and have recorded phenomenal growth after the intervention of Practical Action, providing capital for solar irrigation, stocking of chickens, goats, pigs as well as feeds.
Ivhu Project in Zimunya, the Headlands Goat Breeders Association in Headlands, Nyakusosa project in Mutasa and several others have started paying off for the communities that are now food secure.
"We are fighting against the donor dependence syndrome. We want our people to be self-reliant. The INSPIRE programme has also equipped us with skills on financial literacy, bookkeeping, gender empowerment and marketing," Headlands Goat Breeders Association president Dickson Wecha said.