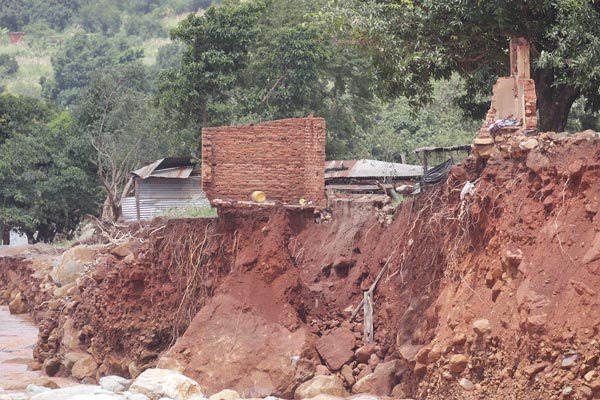 BY VANESSA GONYE
NURSES and staff working in health centres around the Cyclone Idai epicentre are looking for transfers from the area.
Health workers who spoke to NewsDay on the sidelines of a recent media tour in Manicaland province to assess the state of affairs months after the devastating floods said their working conditions since disaster struck have been unfavourable.
They said they have been able to take a breather and their workload has increased.
"The truth of the matter is we are living in uncertainty, in fear of the unknown and our lives have taken huge steps back and it worries us," a nurse at Chimanimani Rural District Council (RDC) Hospital said on condition of anonymity.
Another worker said: "What happened in March is very disturbing and to think that we are going to remain here while our employer does nothing to address our needs makes it more unbearable and this affects how we carry out our duties. I think a universal transfer for all nurses affected will help ease the burden we have had to live with since the fateful event."
Most health institutions in the affected areas are understaffed, leaving the health workers with a heavy burden to shoulder as they strive to dispense duties.
Nurse-in-charge at Chimanimani RDC Hospital, Tendai Masvaure, confirmed that since the cyclone occurred, they have been overwhelmed with work.
"On the day it all happened, we spent the whole night attending to casualties. It was out of control as we were short-staffed. Only four of us were able to report for duty and for four days, we had a challenge as we worked non-stop trying to match the rate at which casualties were being brought to us," she said.
The hospital has 14 nurses, a number Masvaure says is not enough to match the high volumes of people their institution is catering for.
The upsurge in casualties at the clinic is highly attributed to the effects of the cyclone, where many ailments have emerged.
Muchadziya Clinic, near the border with Mozambique, has also been experiencing an increase in patients as it also offers services to Mozambican nationals, doubling the job for the nurses and other staff.
Plans to initiate psycho-social support for the workers have been considered, with provincial medical director Patron Mafaune saying the exercise had already been begun.
"We have made sure that the staff in affected areas has received psycho-social and mental health support and also that workers are trained," she said.