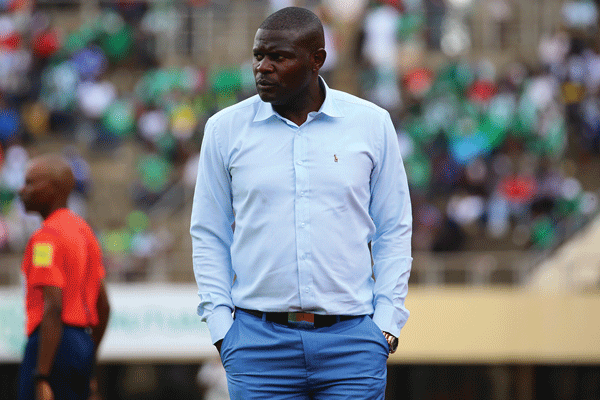 BY TAWANDA TAFIRENYIKA
LLOYD Chitembwe faces a difficult situation today as he seeks to scuttle his former team Caps United's title challenge, a challenge he put together over the course of the season.
Chitembwe's main brief at Caps United this season was to win the league title and by the time he left the club, those ambitions were as healthy as they are now as they only sit two points adrift log leaders ZPC Kariba.
Caps United have picked a further four points since he left three matches ago and if Darlington Dodo were to win the league title this season, he would be the first to admit that half the work was done by Chitembwe.
Having been plotting and planning in the Green Machine dugout for 18 weeks this season, Chitembwe returns in the away dugout to undermine a title challenge he structured.
Considering his sudden departure when Caps United needed him most, even he is unsure what kind of reception the Green Machine faithfuls will give him this afternoon.
Fans can be unforgiving even to those who would have done them good before.
This afternoon, Chitembwe is confronted with a situation where he has to destroy what he built over the years to save his new team from relegation. Placed two places above the relegation cut off, with 25 points from 22 matches, he badly needs to secure maximum points for Harare City.
At the same time, Caps United are also desperate for three points which would lift them back to the top of the league table during a crucial phase of the campaign.
With Dodo having been given the big task of leading Makepekepe to the "promised land", it all points to a feisty encounter — an emotional, high tempo and provocative match.
Dodo wants to prove that he is as capable as his former boss. Chitembwe admitted in the build-up to the match that it will be emotional, but stressed he has to deliver for his new side.
"For me the most important thing is to go out there and play with a sense of responsibility that we have always wanted, especially against Caps United. We want to make sure we go out there and play with our target in mind. This is what it will be about. It's not about what people think about me because at the end of the day I have made a decision to leave Caps United and have since moved on, so it's important for me to concentrate on my new job," he said.
Dodo also said he was looking forward to ensuring that they remained within their set target.
"It is Caps versus Harare City. We are looking forward to a good game. We are still within our target and we would love to take our points tally to 41 with a win on Wednesday," he said.
Should Caps United win against Harare City today, it will spice up the title race that also has FC Platinum, ZPC Kariba and Chicken Inn, with Black Rhinos, Triangle and Dynamos also in the mix.