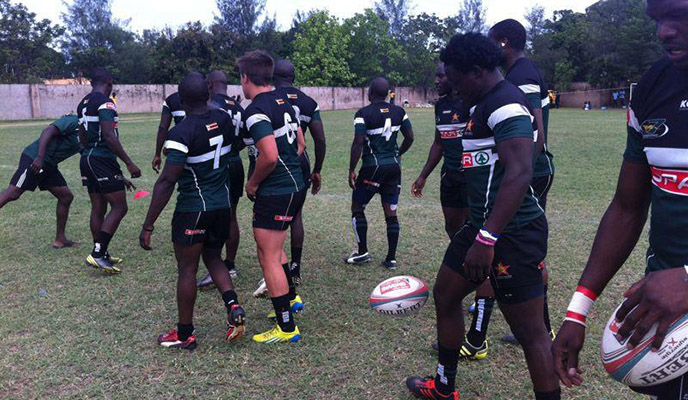 ZIMBABWE'S Sevens rugby side is relishing a return to competitive action after almost five months of inactivity when they participate in the Zambia International Sevens rugby tournament, which kicks off in Lusaka today.
BY DANIEL NHAKANISO
The Cheetahs, who left the country yesterday, will be joined at the two-day event by the hosts Zambia, Lesotho, Botswana, Namibia, Malawi and a host of provincial and select teams from the host nation and South Africa.
Cheetahs coach Gilbert Nyamutsamba said the Zambia tourney offers his technical team a chance to assess new players as they look to build a strong squad the 2022 Tokyo Olympic Games qualifier to be held in South Africa this November.
Zimbabwe's Sevens side was last in action at the Hong Kong Sevens in April, while efforts to participate in tournaments in Georgia and Italy in June did not come to fruition due to lack of funds.
"We have not been active since the beginning of the year and now with only two months away from Olympic qualifiers, we once again find ourselves working with making the best of the lack of preparation," Nyamutsamba told NewsDay Sport.
"The starting point is checking where we stand as a team, and then knowing what to work on. We are therefore using this tournament, for player assessment and team evaluation."
Nyamutsamba's squad for the Zambia tournament features a good balance between promising new players and a number of seasoned players such as Stephan Hunduza, Ngoni Chibuwe, Biselele Tshamala and Njabulo Ndlovu.
Despite some key players missing due to a combination of injuries, club commitment and financial constraints, the Bulawayo-based coach feels he has a strong squad at his disposal.
"Unfortunately, some are unavailable as they are either nursing injuries from past Sables games or not released due to club commitments in the Super Six finals. The international based players are also not available due to financial reasons," Nyamutsamba said.
"However, I am convinced that the players that are representing the country this weekend are going to give their all, and all that is asked for is a committed performance, and I am sure most if not all our objectives will be achieved."
The Zambia International Sevens marks the beginning of the Cheetahs' preparations for the 2019 Africa Cup Sevens crown to be held in Johannesburg from November 8-9.
Zimbabwe will head into this year's competition as the defending champions after upstaging Kenya 17-5 in the final of last year's tournament held in the Tunisian city of Monastir.
However this year's Africa Cup Sevens tournament will have added significance as it doubles as the qualifier for the Olympic Games with the winner automatically booking a ticket to Tokyo.
Zimbabwe Cheetahs squad: Nelson Madida, Andrea Banda, Tarisai Mugariri, Kudzai Mashawi, Stephan Hunduza, Theo Goredema, Biselele Tshamala, Shingi Katsvere, Ngoni Chibuwe, Ganizani Chiku, Takudzwa Kumadiro, Njabulo Ndlovu Coach: Gilbert Nyamutsamba
Team manager: Simbarashe Danga
Physiotherapist: Anne Batau