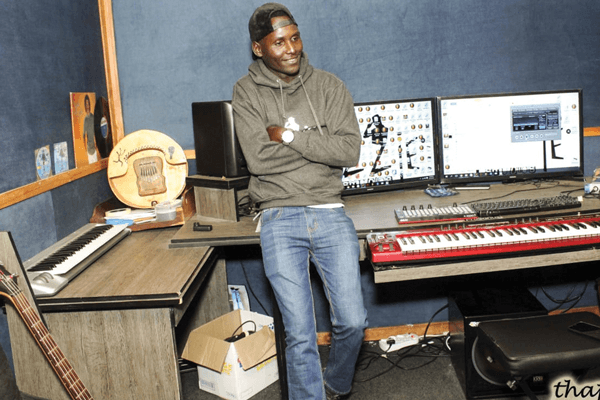 SNEAK PEEK: Winstone Antonio
BULAWAYO-BASED rising musician, producer-cum philanthropist Tinashe "Tizzie" Basa says his desire is to put the City of Kings and Queens on the map in music production through his state-of-the-art Tizzie Studio situated in the lavish Burnside suburbs.
The soft-spoken Tizzie said his love for computers thrust him into music production where his passion later grew, leading to the establishment of the Tizzie Studio. Through the studio, the 31-year-old is helping some upcoming artistes realise their dreams by recording them for free as he seeks to uplift untapped talent inspired by his life experience growing up as an orphan. He said he hopes to one day be among the country's diverse and most sought-after music producers. NewsDay (ND) Life &Style reporter Winstone Antonio recently caught up with Tizzie (TB) at his studio and below are excerpts from the interview.
ND: Who is Tizzie and how did you get started in the music and entertainment industry?
TB: Tizzie is Tinashe Basa who was born on June 14, 1988 at Chegutu General Hospital. I started music when I was in Grade 3 as a member of the school's percussion band. I officially joined the showbiz industry in 2017 working with a group of three guys from Gwanda called GDA Fire. I then released my debut single called Themba Lami featuring Exmile, Skaiva and Nina in June 2018. I always wanted to be in the industry, but my stepmother would not allow me to do music because she believed that the music industry was for those of loose morals.
ND: How did you come to establish Tizzie Studio?
TB: I used to produce music in my small bedroom and one day Dennis Gaboury, my foster father and mentor, came to me and asked where I would like to go for a vacation in the whole world, then I told him I wish to go to Japan and he later handed me $2 000 and told me to go wherever I wanted. So with that money I chose to build a recording studio to achieve my musical dream that would help me travel to wherever I wanted. I established the studio in February 2018 with the help of some good friends.
ND: What type of software are you using to produce music?
TB: I use FL 20.5 for making beats and Cubase 5 for vocals.
ND: How do you combine the two — singing and producing?
TB: My strength lies mostly on making beats, coming up with concepts and writing lyrics, then I find vocalists to do the singing. I get the inspiration from my friend Skaiva, an award-winning house/kwaito producer and DJ, Heavy K from South Africa and most of EDM producers.
ND: Which artiste would you say would be a dream come true to work with?
TB: Working with our own Zimdancehall president Winky D will be a dream come true for me. I like his personality and how he does his work in a professional way that has resulted in him pulling the crowds and attracting corporate partnerships.
ND: As an upcoming artiste and producer, what are the challenges threatening your career?
TB: Distribution of the music is the biggest challenges. You work on something to inspire many but you find out that your voice won't be heard. For your music to be played on the radio you have to know someone from the station.
ND: You once assembled a computer, how did you manage to do that as a school dropout?
TB: I actually put together, with my best friend Charles Moyo, the computer I am using to produce music. I got to know much about computers in 2008 when I was invited to Dennis' house. Dennis would leave his computer on when he went to bed, so I would start to experiment how it works. In 2012, I told myself that I must own a computer, but I could not find exactly the one with the specifications that I needed so I approached Charles and asked him if it was possible to build a customised one. He agreed to help get the parts and we built it and it came exactly as I wanted it. I used to play the best graphic games on it until I figured out how to make music on it.
ND: You are running an orphanage, Zim Kids Orphanage. How did this start?
TB: From the way I grew up as an orphan, it was also my dream to work with orphaned and vulnerable children and I am happy that today I am the director of Zimkids Orphanage Trust. I started working at Zimkids at the age of 17 as a volunteer.
I used to be a volunteer librarian at a non-governmental organisation and that is where I met Dennis Gaboury the founder and chairman of the board of Zimkids Orphanage Trust. He used to come to the centre and pass by the library and at that time I only had a pair of flip flops, a pair of pants and a T-shirt to my name.
He got to see the good in me and he invited me to go with him to one of the 15 neighbourhoods he was working with in Bulawayo where he was collecting toys for a toy competition that he was doing. From that day he said I should continue working with him until we decided to concentrate in one neighbourhood called Pumula North.
In 2009, we officially registered the organisation. Most of my music is inspired by the way I grew up and the kids I work with at the orphanage as they give me the reason to be alive. When I wake up in the morning, I say I want to make someone happy and when I go to bed I sleep smiling because I would have managed to make more than one person happy.
ND: Without an 'O' Level qualification, you managed to be part of the Mandela Washington Fellowship where you rubbed shoulders with educated people from across the world. How was the experience?
TB: It was great being part of the Mandela Washington Fellowship. I got to understand the world and learnt from different cultures. The fellowship opened a lot of doors for me. It made me move out of my comfort zone and aim higher. It fulfilled my belief that nothing is impossible in this world. It proved to me that even without formal education one can be able to achieve something in life as long as he or she believes in him or herself. I am not saying education is a bad idea, but I got to use my experiential learning to be what I am today.
ND: Your word of advice to both upcoming musicians and producers?
TB: Never give up on your dream. The road to success is not an easy one. Talent is nothing unless you work hard. Never stop believing in yourself. Always give your best. From a volunteer, I worked hard to become a director.