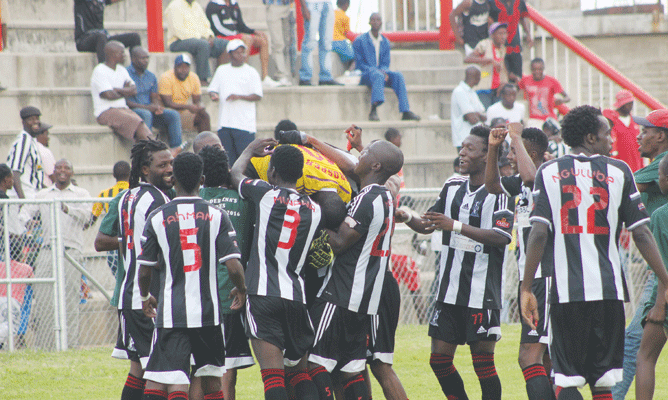 BY FORTUNE MBELE
Highlanders have turned to a yet to be named Dutch coach in their bid to survive the drop from the Castle Lager Premier Soccer League.
Having given Mandla Mpofu a three-match ultimatum to collect at least six points, Bosso have now moved to revamp the technical team by engaging a foreign coach as the threat of relegation continues to loom.
The new coach is set to be in the country by the weekend where he will watch his new team from the sidelines as the club sorts out his paperwork.
Highlanders (Bosso) chairman Kenneth Mhlophe, who had appeared to give Mpofu some reprieve on Monday, would not be drawn to reveal the identity of the coach yesterday, but confirmed that Bosso had settled for a foreign coach.
Mhlophe only confirmed the candidate would be in the country on Sunday and will be unveiled after immigration formalities have been done and the coach has acquired a work permit.
"I will be with the new coach on Sunday, but he will only be here as a visitor as we have to sort out immigration formalities first and he gets his work permit after which he will be officially unveiled. He is Dutch," Mhlophe said.
A source said Mpofu had failed to live up to the demands of the club, thus the move to look elsewhere.
"Mandla and Super (Bekithemba Ndlovu) revert to their positions as assistants to the guy who is coming in," the source said.
There had been speculation that former Harare City gaffer Mark Harrison, a Briton, was making a return to head the Highlanders' technical team, but that now has been proved as mere speculation.
The Highlanders' leadership is not happy with the club's position on the log table as the Bulawayo giants sit on position 14, just above Yadah, Bulawayo Chiefs, Herentals and TelOne.
Another Dutchman, Erol Akbay, was at the helm at Highlanders in 2016 and 2017 before returning home to the Netherlands and coming back this year to coach Ngezi Platinum Stars, was yesterday dismissed as Ngezi coach as the club struggled to mount a title challenge.
The platinum miners announced the shock development adding that replacements will be in place soon.
Akbay was dismissed together with his assistant Tendai Chikuni.
"Ngezi Platinum Stars wishes to announce the departure of head coach Erol Akbay and his assistant Tendai Chikuni from the club with immediate effect," a statement by club president Stanley Segula read.
"The board and management of Ngezi Platinum Stars would like to thank Akbay and Chikuni for their great contribution to the club for the season to date and we wish them success in their future assignments."
The last straw for Ngezi was the defeat to TelOne at the weekend which was their seventh this season, leaving them eight points from the top having played a game more.