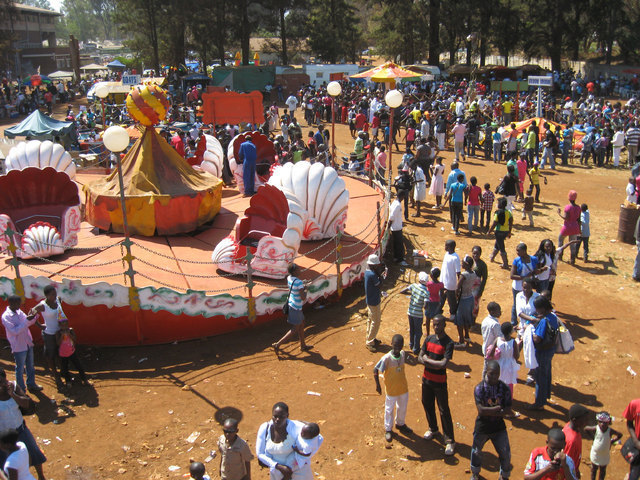 BY MISHMA CHAKANYUKA
THE Zimbabwe Agricultural Society (ZAS) has experienced a low turnout year, largely attributed to the worsening economic environment which has sharply eroded the income of Zimbabweans.
A survey by NewsDay Business shows that there was low traffic since the show commenced as compared to previous years.
Tongaat Hulett corporate affairs executive Adelaide Chikunguru also confirmed that traffic at the show was low as compared to previous years.
"The general turnout has been low, though we have had a good stakeholder turnout. As compared to the previous year, by Wednesday, the traffic would have increased, but this year traffic was low. So far, the attendance has been good in terms of customers and consumers, but general public attendance has been a bit lower compared to the previous years, last year and the year before. We are hoping that as things improve, perhaps next year, we will have a good number of people coming," she said
"Our stakeholders have been very supportive, as they have been coming to the stands. Our customers have also been coming. We find a lot of value as Tongaat Hulett to exhibit at these exhibitions because we also do our community type of engagement. We also get a chance to greet and meet our general consumers."
Zimplats head of corporate affairs Busi Chindove said traffic only started to improve on Thursday, adding that the previous day's turnout was generally low.
"I think when we compare with last year, when we look at Monday, Tuesday and Wednesday, the traffic has been a bit low. But when we look at Thursday and Friday, the traffic has been quite good. We have had a lot of visitors to our stand and they have been very interested in various aspects of the business," Chindove said.
A representative from one of the companies which took part in the exhibition said this year's show was affected by the economic crisis gripping the country.
"This year's performance has been dismal. I think what contributed to the bad performance is that most people have not received their salaries yet and the change in dates also affected the performance as the dates came soon after the Heroes Day holiday. The traffic has been low this year," a source, who spoke on condition of anonymity, said.
"Most of our targeted audience are adults, but we are seeing that mostly kids are coming to the stands. It is different from the Zimbabwe Trade Fair where it's mainly business. The relevance of the show should be revisited so that we are given time as business to exhibit; let's say they give us two days on which to put up our business stands before interested people come."
This year, the number of exhibitors at the agricultural show increased by 18% to 381 exhibitors from 324 recorded last year.
According to organisers, at least 62 670 square metres was taken up compared to the 50 740 square metres covered in 2018.
ZAS had set a target of over 90 000 square metres exhibition space at this year's Zimbabwe Agricultural Show.
The show, which commenced on August 19, ended on August 23. Entrance fees had to be slashed from $10 to $5 to boost attendance figures.