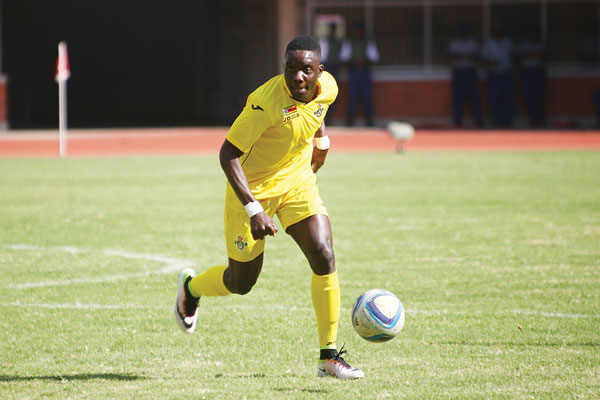 German Bundesliga side FC Koln have edged ahead in the race to sign Warriors midfielder Marvelous Nakamba, reports emanating from England suggests.
By Kevin Mapasure
Nakamba is reportedly a subject of interest for England top-tier side Aston Villa, but it was reported yesterday by Birmingham Mail that Koln had opened talks with his Belgian side, Club Brugge.
The 25-year-old is valued at around £20 million and has also been watched by scouts representing Italian sides, Torino, Sampdoria, Atalanta and Fiorentina.
But amid all the interest, it is Koln who have jumped the queue by opening talks for the player's signature.
Nakamba represented Zimbabwe at the ongoing Africa Cup of Nations (Afcon), playing in the first match against Egypt before missing out on clashes against Uganda and the Democratic republic of Congo due to injury.
The injury might have offset plans by the scouts to have a closer look, but it seems Koln had already been impressed with what they had gathered of the player.
There is a close relationship between the Belgian league and the German Bundesliga where Koln could have been tracking Nakamba even before the Afcon finals.
Nakamba featured in the Uefa Champions League where he won five caps in the 2018-19 edition, while he played 23 times for Club Brugge last term, which was also blighted by injuries.
Club Brugge were also hoping he would perform well at the tournament to help boost his value. Nakamba has two years left on his contract.
He performed well against Egypt, which might have impressed his several suitors and according to the British publication, Koln had made the first move.
Aston Villa boss Dean Smith is said to be looking for a midfield enforcer and holds an interest in Nakamba.
Aston Villa return to the Premier League after a spell in the second-tier division and the thought of playing in probably the most watched league in the world would appeal to Nakamba.
If he decides to make the German move, he would follow in the footsteps of Warriors captain Knowledge Musona who turned out for TSG Hoffenhem as well as Augsburg.
Despite their disappointing early exit from the 2019 Afcon finals, there are other Zimbabwe senior men's national team players who have been inquired on by agents representing clubs from different continents.
According to Warriors team manager Wellington Mpandare, there have been inquiries on leftback Devine Lunga who enjoyed a dream game in the opening Afcon match where he contained Liverpool superstar Mohammed Salah's threat.
Salah failed to score in the match and Lunga emerged as a hero after doing well against the English Premier League Golden Boot winner. Agents representing clubs from Egypt as well as the rich Saudi Arabia topflight have expressed interest in the Baroka FC defender.
Mpandare said there are some agents representing clubs from Europe and Asia who asked about vice-captain Ovidy Karuru and Khama Billiat who scored the Warriors' only goal at the finals and was Zimbabwe's most outstanding player.
Musona, contracted by Belgian giants Anderlecht, had hoped to use this tournament to look for another job, but following a below par performance at the finals, one of his objectives might have faltered.
Musona is not happy at Anderlecht, who are now coached by former Manchester City captain Vincent Kompany, where he struggled for game time before he moved on loan to Lokeren who were relegated at the end of last season.
The forward has stated that he wants to move to a club where he can play regularly.
Musona failed to score a single goal at the tournament and produced one of the worst misses at the tournament.