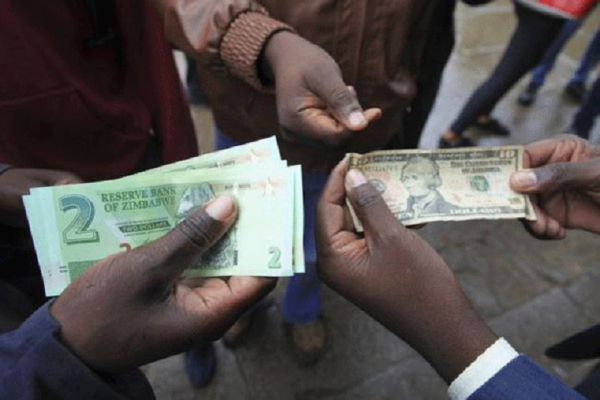 guest column newZWire
FEW things fill a Zimbabwean with fear and dread more than the word "Zimdollar". So, it was no surprise that the news Zimbabwe had declared the RTGS the sole local currency, one more step in the country's march towards its own unit, was met with shock and horror.
In a Statutory Instrument issued Monday, Finance minister Mthuli Ncube said: "The British pound, United States dollar, South African rand Botswana pula and any other foreign currency whatsoever shall no longer be legal tender alongside the Zimbabwe dollar in any transactions in Zimbabwe."
Here, we try and make sense of what Ncube has done and what really it is that he is hoping to achieve with this latest move.
What just happened?
From Monday, only the "Zimbabwe dollar" – in the form of bond notes or coins or RTGS – is legal tender in Zimbabwe. You can no longer use US dollars, rand, pula or other foreign currencies to buy and sell locally. Effectively, this is the end of the multi-currency regime, introduced in 2009 after Zimbabwe ditched the Zimbabwe dollar. In February, the central bank introduced the RTGS as a new currency, part of measures to tame forex shortages.
This new order is the latest in a series of measures that Ncube has taken since October, when he first launched the Transitional Stabilisation Programme. Launching that programme, Ncube and his permanent secretary, George Guvamatanga, pledged to take steps towards ending all controls on the exchange rate.
Since then, government separated RTGS and USD balances, before introducing a new interbank market in February, effectively ending the 1:1 parity and allowing a partial float of the RTGS.
Why is government doing this?
According to bankers, the government's plan here is to force holders of US dollars to sell their forex onto the local market. This way, they seem to believe that demand for US dollars will ease. Because more and more local goods and services are being priced in US dollars, demand for US dollars has also been going up. This has meant that the value of the RTGS has fallen sharply as people chased more US dollars.
One banker told Reuters: "They (government) are hoping that this will force generators of forex to sell their forex to make domestic transactions and thus create liquidity in the interbank market."
But, the banker adds, it depends on other factors: "It might work if they can support the market with a large injection of liquidity to complement this. If they can't, well, then people will just hold onto their forex even more tightly than before."
In May, Guvamatanga said he believed exporters were holding on to close to US$1 billion, keeping it away from the formal interbank market.
Last week, the International Monetary Fund's resident representative, Patrick Imam, said the central bank should allow the RTGS to float freely, allow exporters to sell dollars at the interbank rate rather than surrender them to the central bank, and raise interest rates to curb inflation and avoid "spontaneous re-dollarisation".
RTGS is trading at around 6,3 to the US dollar on the official interbank market, but it is trading at half that value on the black market.
What does it mean for FCAs?
Many fear that the new regulation will lead to the expropriation of their FCAs. The FCAs, introduced under changes in October, remain unchanged, at least according to the notice. "Nothing in section 2 (of the regulations) shall affect the opening or operation of foreign currency designated accounts, otherwise known as "Nostro FCA accounts", which shall continue to be designated in the foreign currencies with which they are opened and in which they are operated, nor shall section 2 affect the making of foreign payments from such accounts," reads the SI.
Just how many FCAs are there?
The latest available data from the RBZ shows there were 133 633 FCAs, holding US$674 million at the end of December 31, 2018.
Of the total FCA deposit value, 97% was held by corporates. Just over 111 000 depositors, mostly individuals, held less than US$1 000.
Is duty still payable in foreign currency?
Import duty on selected goods – under Statutory Instrument 252A of November 2018 – will still be in US dollars. The notice says: "Nothing in section 2 (of the regulations) shall affect the requirement to pay in any of the foreign currencies…duties of customs in terms of the Customs and Excise Act that are payable on importation of goods specified under that Act to be luxury goods, or, in respect of such goods, to pay any import or value added tax in any of the foreign currencies."
Remittances, such as money transfers via Western Union, are not covered by the SI. As at late Monday, some agencies were freely paying out remittances in USD.