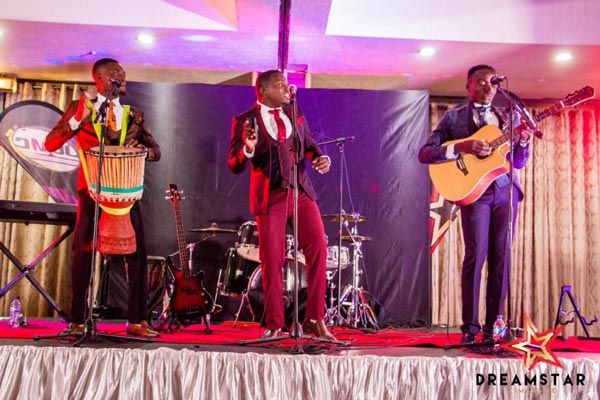 BY WINSTONE ANTONIO
ORGANISERS of the DreamStar Zimbabwe talent show, the China Africa Economic and Culture Exchange Research Centre and its partners, are set to launch this year's edition of the talent search with university tours opening the auditions at Midlands State University this Saturday.
The talent show's spokesperson, Tinashe Kitchen, told NewsDay Life & Style yesterday that the auditions are a continuation of the event's mission to promote the arts and culture industry in Zimbabwe through the identification and provision of platforms for young, talented artists across all genres.
"For this year's sixth season of the DreamStar Zimbabwe talent show auditions will start with the DreamStar university tour, followed by the DreamStar city tour; and for the first time ever, the DreamStar inner-city tour, as Jacaranda Culture and Media Corporation seeks to find new ways to reach a wider and more diverse audience," he said.
"We are commencing our auditions with university tour at Midlands State University and this will be followed by other auditions in Masvingo at Great Zimbabwe University on April 13. Talented singers, dancers, beatboxers, magicians, and all other performing artistes are invited to audition and stand to win life- changing opportunities."
Kitchen said this year's top prizes include a tour to China, opportunities to work full-time both in China and in Zimbabwe, recording deals with Jacaranda Culture and Media Corporation Studios, and a cash prize of $5 000 for the ultimate winner, $3 000 and $1 500 for second and third-placed winners, respectively.
Meanwhile, the DreamStar talent show 2016 finalist Fusion 5 Mangwiro band has been selected to participate at an international Chinese singing competition.
Kitchen said the group was chosen based on its outstanding harmonies, and vibrant sound that epitomises the Zimbabwean sound.
"Fusion 5 Mangwiro's song, Katarina was selected to feature in a Chinese documentary about Zimbabwe which led to their discovery by the competition's organisers. The group is expected to depart for Beijing next month for six months to compete against some of the best China and Asia has to offer," he said.
Kitchen said he was happy that the competition was putting both the artistes and nation on the regional and international showbiz map.
"We are pleased that our 2016 champion beatboxer and hip-hop artistes, Tafara "Union5" Dongo recently raised the country's flag high at Empawa continent-wide talent search by Nigerian music superstar Mr Eazi."
"Tafara finished in the top 10 and earned an all-expenses paid trip to Johannesburg where he got to work with the Nigerian music icon Mr Eazi and was also awarded $3 000 for a music video," he said.
"Fusion 5 Mangwiro also competed and finished in the top 100 out of the tens of thousands of participants. They were also awarded $3 000 for a music video which is set for release later this year."
The arts and culture show that was established by CFZ, Jacaranda Culture and Media Corporation seeks to empower gifted people aged between 12 and 40, who are in the arts and culture, to help them rise from the backstage to the official stage.