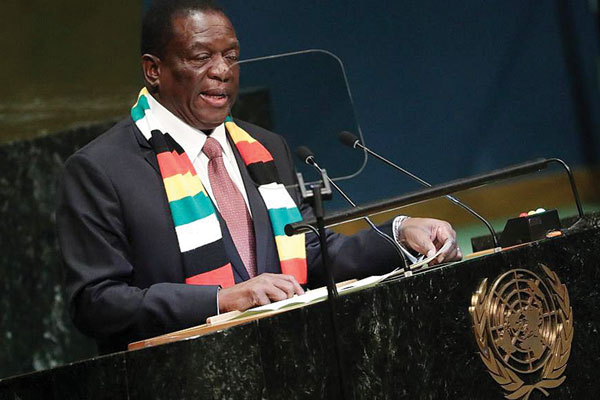 By Blessed Mhlanga
PRESIDENT Emmerson Mnangagwa has shot down reports that the military carried out extra-judicial killings on at least 17 civilians after being roped in by the police to quell last month's violent protests.
He has instead demanded to be supplied with concrete evidence of the victims' identities and where they were buried.
Mnangagwa at the weekend told French broadcaster, France 24, on the sidelines of the African Union summit in Ethiopia that the security forces did not purposely kill civilians, serve for "some isolated incidences" where some individuals could have overstepped the line.
"You say judicial killings, this is where the army directly and purposefully orders the killing of people; we would want to see the evidence. We see all this in social media; we would want to see evidence where the 17 killed were buried. Let us see the relatives who will say I lost a son, I lost a daughter, I lost a cousin by the hands of the army.
"I am not saying that the army did not overstep their powers. It's possible that individuals in the army might have and some have been arrested in that regard by the police. We also arrested over 1 000 (people) who were involved in the violence," Mnangagwa said.
He also accused non-governmental organisations (NGOs) and the main opposition MDC, led by Nelson Chamisa, of organising the violent protests and stage-managing the extra-judicial killings, to tarnish the military's image.
The Zimbabwe Human Rights NGO Forum and several other local rights groups have produced damning dossiers, narrating how the military fatally shot civilians at point blank, raped women and carried out nocturnal visits at perceived anti-government activists' homes and brutally assaulted them, oftentimes in front of their families.
But, Mnangagwa said the rape reports were fabricated, demanding that the estimated 20 victims come out in the open and narrate their ordeals to police.
"We have only one single case that came out in Chitungwiza, the rest we now know that the women that were paraded were just a make-up by some organisations and some have left the country, have been shipped to the UK (United Kingdom). The few who are still in the country are being moved from house to house and we are trying to track them down, but it's all stage-managed. We are challenging anyone local or foreign to produce them [victims of rape], so that we see them and the world can see them as we say this is what happened," he said.
Refusing to name the foreign powers behind the January 14-16 shutdown protests, Mnangagwa said his government had identified foreign nationals who entered the country to train regime-change agents to carry acts of banditry and cause anarchy.
"I consider it as an attempt to regime change, that is the better word, it is a regime change agenda which is not new, which has been a phenomenon visiting Zimbabwe throughout the last 18 years … I am aware through security intelligence of people who came to do workshops and training our people in the opposition, we have already submitted the names and passport numbers to the respective embassies in Zimbabwe, that will come out at the appropriate time," he said.
Despite the rebuttal by Mnangagwa, respected human rights group Amnesty International (AI) on Sunday released a hard-hitting report containing names of victims of the State-sponsored fatal shootings, names of their relatives and physical addresses.
The report titled Open for Business, Closed Dissent states that those shot, killed and injured were taken to government hospitals.
"As a result of the deployment of security forces, at least 12 people had been killed by the security forces by 18 January. Medical doctors who attended to the wounded or who saw those already killed when their bodies were brought to hospitals told AI that the wounds they had seen and treated were consistent with gunshots as well as trauma caused by the use of blunt and sharp instruments particularly on the feet, backs and buttocks. They also observed that the gunshot wounds were high-velocity and were aimed at causing maximum damage," the report read.
AI names one of the victims as Kelvin Choto (a soccer player at Chitungwiza City FC), whose father said he reported the matter to the police under docket number SDD02/19, commonly referred to as "Sudden Death Dockets."
"This was the case for Kelvin Tinashe Choto, a 22-year-old football player from Chitungwiza, a high-density residential town about 30km from Harare, who was shot in the head and killed by security forces outside his home on January 14. He died on the spot and his body was taken to Makoni Police Station by angry residents. He was buried on January 19 and is survived by a wife Varaidzo Chiyanike and a seven-month-old daughter. According to his father, Kelvin was watching clashes between protesters about 30 metres from Makoni Police Station fence when a police officer shot him in the head," the report read.
AI also reports that, Elvis Saidi from Mbare, was gunned down on January 14 by riot police outside Chishawasha Flats, while Patricia Kamuriwo was severely wounded after she was shot in her thigh near a police station in Epworth on her way from work.
In another detailed report, the Zimbabwe Association of Doctors for Human Rights (ZADHR) reported attending to 343 cases of injured people, of which 78 people sustained gunshot wounds, while four had dog bites after dogs were allegedly unleashed on them by security forces.
Other names of civilians killed during the skirmishes, according to the Zimbabwe Human Rights NGO Forum include Abraham Nyapokoto (35) of 34 7th Avenue, Mbare, National, buried at Zororo; Trymore Nachiwe of Glen View Area 8, buried in Chimanimani, Solomon Nyaruwa ward 6 (49) buried in Chimanimani, Thandiwe Ncube (age not given), buried in Epworth and Tinashe Kaitano (20) ward 2 Kadoma, buried at Rimuka Cemetery.
The HR Forum also revealed that 14 women were raped by soldiers in Hopley, while four others were raped in Epworth.
Mnangagwa confessed ignorance of the cases documented by ZADHR and AI, justifying the deployment of soldiers, saying the protesters were so violent that they overran and overwhelmed police.
"They were so violent that they attacked police stations, burnt police cars, killed a policeman, beating (of) people. It was so violent that the police were overwhelmed by these people. It showed that they were well organised countrywide," he said.