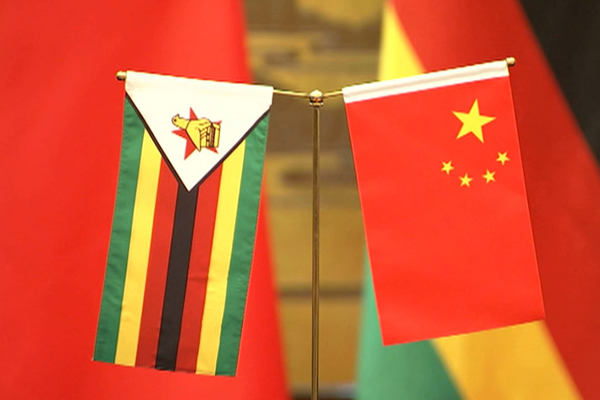 IN September of this year, China refused President Emmerson Mnangagwa US$2 billion for his proposed economic bailout. This came when Zimbabwe showed signs of slipping further into economic decay, and thus only exacerbated the situation within the nation.
guest column: Kuzivakwashe A Mutsvangwa
China's refusal to bail out Zimbabwe is indicative of its stance towards our nation. We are not partners; we are not friends; we are merely an avenue for Chinese neo-colonialism. Zimbabwe and China do not behave as equals, as much as the Zimbabwean government would like us to believe. It is high time our government stopped propagating such information. Better yet, the Zimbabwean government should stop entertaining such delusion.
Since the turn of the millennium, China is consistently touted as Zimbabwe's developmental partner. The Look East Policy strengthened this relationship upon its adoption in 2004. Looking towards China was meant to aid the Zimbabwean economy in its recovery from the catastrophic effects of the failed Economic Structural Adjustment Programme implemented in the 1990s.
The Chinese model for economic assistance seemed to be a favourable one with interest-free and even forgivable loans. The Chinese were supposed to aid in health and infrastructural development, facets that the West had neglected and under-performed in Zimbabwe. China was to provide technical knowledge on improving industry and rebuilding the economy.
Most importantly, China would provide international backing for the Zimbabwean government. This would be especially useful in dealing with countries such as the United States, which imposed sanctions on Zimbabwe.
However, none of these objectives would come to fruition. Firstly, China's stance as non-interventionist in matters of governance meant that China did not care to use its power and influence to force the Mugabe regime to abandon its use of political violence and voter fraud, manipulating democracy.
As such, the Chinese watched as the Mugabe regime perpetrated such human-rights atrocities as "Operation Murambatsvina" or the disappearance of Itai Dzamara — a citizen merely exercising his right to protest against the government before Central Intelligence Officers raided his house .
For these actions, former President Robert Mugabe's government suffered not so much as a citation from the Chinese. Instead, China added insult to injury to the Zimbabwean people by lobbying for the actions of "Operation Murambatsvina," calling the destruction of Zimbabwean homes and forced displacement of low-income Zimbabweans from capital cities "necessary". This non-interventionist policy does not provide the impetus for the government to grow its democracy, it merely enables autocracy.
Nevertheless, this could be forgiven if the Chinese actually helped Zimbabwe economically. Unfortunately, this is not the case.
Over the years, China has acquired a stake in nearly every Zimbabwean industry or infrastructural project.
These dealings, however, are shrouded in secrecy. It is unclear how much money China has put into Zimbabwe or how much they have accrued, or whether their infrastructural projects, such as highways going out of the country, actually help the ordinary Zimbabwean.
However, 60% of Chinese company managerial positions in Zimbabwe are held by Chinese expatriates.
Thus, lucrative employment opportunities in Zimbabwe are taken up by non-Zimbabweans, who in turn do not pump that money (in the form of taxes) back into the Zimbabwean economy. Instead, this capital goes to China.
Erstwhile, the projected unemployment rate in Zimbabwe has slipped into figures higher than 90%. The secretive nature of Zimbabwe's relationship with China has also led to incredulous situations such as the loss of US$15 billion worth of diamond revenue from China in 2015. A lack of transparency fosters corruption, and there is no more significant example of corruption than losing US$15 billion!
Currently, Zimbabwe's debt stands at US$18,7 billion. We could have cleared a considerable chunk of it by now using that lost revenue. Why has there not been more emphasis placed on this by either side, especially as Zimbabweans continue to suffer in the current economic climate?
It is easy to understand why a relationship with China made the Mugabe government salivate. Struggling to hold onto power and suffering from economic woes, Zanu PF could default towards China for a capital injection to sustain its government. On paper, this was a very symbiotic relationship. It made sense for the Mugabe government to want capital without any political concessions or obligations; perfect for a government that wanted to assert its authoritative dominance.
If President Emmerson Mnangagwa wants Zimbabweans to take his reformative rhetoric seriously, he needs to start by either adjusting the terms of or discontinuing the nation's current relationship with China.
So far, China has done nothing to help in our democracy and has not been clear, in more ways than rhetoric, about what its economic intentions in Zimbabwe are.
Zimbabweans have been "looking East" for over a decade now, we might be losing sight from staring too long into a void. If Zimbabwe is truly "open for business", then it should also open its eyes.
 Kuzivakwashe A Mutsvangwa writes in his personal capacity