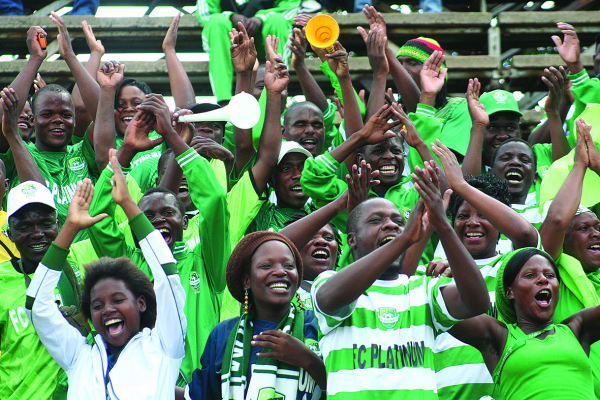 FC PLATINUM captain Petros Mhari believes the harsh lessons they learnt in their failed African Champions League adventure in the previous campaign have given them resolve as they bid to make a mark in the prestigious competition.
BY TERRY MADYAUTA
The platinum miners have failed to reach the lucrative group stage of the Confederations of African Football (Caf) Champions League on two occasions.
They have also been a huge disappointment in the second tier Caf Confederation Cup tournament where they exited in the first round in their first attempt.
Since their adventure in continental football in 2012, the Zimbabwe champions have been given a rude awakening, the latest being the 5-1 aggregate score line defeat by eventual semi-finalists Primeiro de Agosto of Angola earlier this year.
The Zimbabwe champions make another return to the rescheduled Champions League which begins next week with a trip to Madagascar for a preliminary round, first leg date with CNaPs.
It provides another opportunity for coach Norman Mapeza to make a convincing case of his credentials in African football.
Zimbabweans, in particular the Zvishavane community, still have sad memories of FC Platinum's embarrassing exit in the less prestigious Caf Confederations Cup, where they suffered a 5-1 aggregate loss to Young Africans of Tanzania.
However, Mhari, who has played a part in the last two campaigns on the continent, is looking into the future with optimism.
He believes that they have drawn crucial lessons from past experiences.
"We have been doing well in the local league and clearly we lived up to the expectations," Mhari said.
"We achieved our goal of winning the league's ultimate prize for the second time. But now, we are headed to the Champions League, which is our next task. "We all know that it's a tough task, but I am hoping that we will improve from last season.
"Our experience against Young Africans and Agosto was a rude awakening. No matter how difficult it can be, I think this time around, we will bring back home something tangible to celebrate about."
Mhari said going into this Champions League task, "team work and hard work" would will be their main strength.
"I want us to maintain this winning form," he said.
FC Platinum squad
Goalkeepers: Petros Mhari, Wallace Magalane, Francis Tizayi
Defenders: Raphael Muduviwa, Jameson Mukombwe, Elvis Moyo, Kelvin Moyo, William Sitima, Gift Bello, Lawrence Mhlanga, Ian Nekati
Midfielders: Winston Mhango, Never Tigere, Kelvin Madzongwe, Marshall Mudehwe, Rahman Kutsanzira, Rodwell Chinyengetere, Ali Sadiki, Rainsome Pavari, Devon Chafa, Farai Madhanhanga
Strikers: Mkhokheli Dube, Gift Mbweti, Albert Eonde, Charles Sibanda, Lameck Nhamo, Thomas Chideu