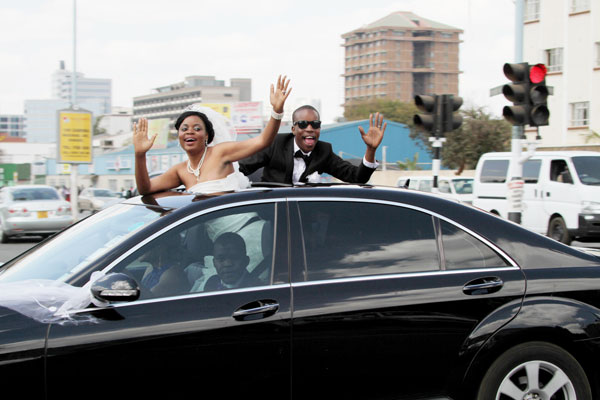 POPULAR sungura musician Alick Macheso's daughter, Sharon, and two other well-known artistes, Plaxedes Wenyika and prominent gospel musician Sabastian Magacha, yesterday finally obtained decrees of divorce at the High Court following nullification of their marriages by Justice Loice Matanda-Moyo.
BY CHARLES LAITON
Sharon filed for divorce sometime in November 2014, barely three months after tying the knot with husband Kudakwashe Munetsi. The two were embroiled in a bitter domestic dispute, resulting in Sharon filing domestic violence charges against her husband.
In the divorce summons, however, Sharon said the relationship between the two could not be mended and accused Munetsi of physically assaulting her and engaging in adultery.
Sharon said they had not acquired any assets of value, except for a few wedding gifts, most of which had not yet been delivered to them by the time she filed for divorce.
In her affidavit, Sharon said when she petitioned the court for divorce, she had already fallen pregnant and Munetsi was responsible for it.
Munetsi, however, denied responsibility, saying he had not been intimate with Sharon because she was on medication for a sexually-transmitted illness.
The couple's divorce turned nasty after an exchange of scurrilous accusations.
In a different but related matter, popular musician Plaxedes Machuma Joka, popularly known as Plaxedes Wenyika, was also granted a decree of divorce against her husband, businessman Mika Joka, 13 years after they tied the knot.
Wenyika filed for divorce, citing irreconcilable differences with Joka, who is the founder of Corporate 24 Medical Centre.
The couple married in 2005 in terms of the Marriages Act (Chapter 5:11).
In the divorce summons filed on August 30 this year, Wenyika initially claimed monthly maintenance of $3 500 for herself and upkeep of the couple's three children before upgrading her claim to $6 330.
The musician also said she was claiming $1 110 monthly for each of her three children, including the one in boarding school, bringing the total claim in respect of the three children to $3 330.
She said she was claiming $300 for the wages of her two maids and a gardener plus $80 monthly for her DStv subscription.
Meanwhile, Magacha was also granted a decree of divorce against his wife Nomsah, who recently petitioned the court seeking termination of the couple's six-year-old marriage.
Sometime last month, Nomsah petitioned the High Court seeking a court order to cancel the marriage to Magacha, claiming she had lost love and affection for the musician. The couple signed a consent paper which was presented by Nomsah's lawyer Morris Kuwana.
Magacha and Nomsah are said to have initially separated for a year before Nomsah, through her lawyers, Madotsa and Partners, filed for divorce this year.