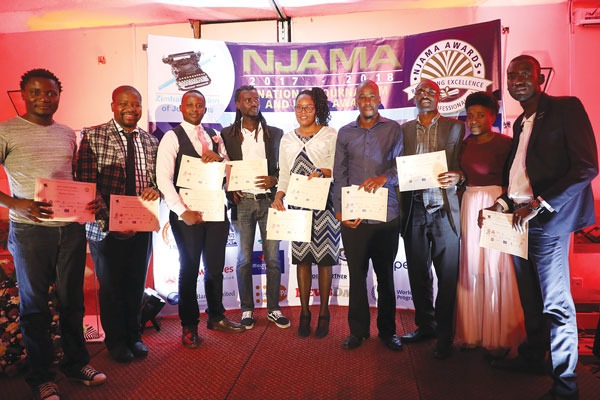 ALPHA Media Holdings scribes on Wednesday evening once again dominated the National Journalistic and Media Awards, scooping 11 out of the 20 gongs that recognised journalism excellence in the country.
by STAFF REPORTER
AMH is the country's biggest private media organisation and publishes its flagship and the country's premier daily newspaper, NewsDay as well as The Standard and Zimbabwe Independent.
Kennedy Nyavaya scooped two awards: the best ICT journalist and best water, sanitation and hygiene journalist of the year while business reporter, Tatira Zwinoira won the best financial journalist of the year accolade.
Senior parliamentary reporter Veneranda Langa was adjudged best gender-based violence journalist of the year, while Phyllis Mbanje won the best health journalist of the year award.
Mashonaland East reporter, Jairos Saunyama won the best policy reporting for zero hunger journalist of the year award while correspondent Tafadzwa Kachiko was voted best arts and entertainment journalist of the year.
Tapiwa Zivira won the best multimedia journalist of the year award while Southern Eye journalists, Nqobani Ndlovu and Silas Nkala won the best gender identity sexual and reproductive rights journalist for southern region and economic justice journalist of the year, respectively.
NewsDay editor Wisdom Mdzungairi said the numerous awards were a confirmation of the media house's astute reportage of different issues in the country.
"It is humbling that the industry recognises the efforts of our journalists to be the best at what they do. That is why we are the biggest newspaper in the country," Mdzungairi said.
Officiating at the awards, Information minister, Monica Mutsvangwa said gone were the days when government would be at loggerheads with the media.
"That which used to happen in the country where it was 'them and us' is no more, and government in this second republic has shown greater commitment to media democracy because a professional, ethical and quality media can benefit individuals, corporates and government so that they make decisions based on quality information," Mutsvangwa said.
She blasted the culture of corruption and cheque book journalism while calling for professional and ethical conduct in the media.
Mutsvangwa also lamented sexual harassment of female journalists in newsrooms saying it must end as it deterred young female graduates from practising as journalists.
Also present at the Zimbabwe Union of Journalists-organised awards were Information ministry secretary, Ndavaningi Mangwana, Malaysian acting Ambassador to Zimbabwe Amarjit Sarjit Singh, and Parliamentary Portfolio Committee on Foreign Affairs chairperson and Makonde MP Kindness Paradza, a former journalist himself.