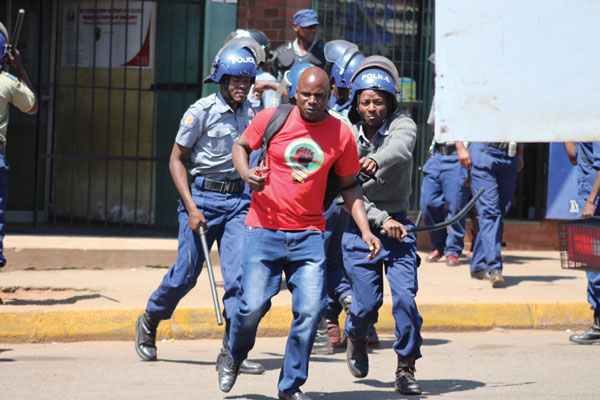 TWENTY Zimbabwe Congress of Trade Unions (ZCTU) activists who were arrested in Mutare on Thursday on allegations of attending an illegal gathering with intent to promote violence were yesterday granted bail by a magistrate's court.
BY KENNETH NYANGANI /BRENNA MATENDERE
The 20, who included ZCTU regional manager Tenson Muchefa, were represented by the Zimbabwe Lawyers for Human Rights, appeared before Mutare magistrate Tendai Mahwe, who granted them $50 bail each.
They will appear in court on October 26. The State, led by prosecutor Tirivanhu Mutyasira did not oppose bail.
Mutyasira told the court that on October 3, 2018, Muchefa made a written notification to Mutare Central Police District to hold a march from the ZCTU offices along Jameson Street.
On October 10, the police regulating authority turned down the request citing health issues on account of the recent cholera outbreak in Harare, which has so far claimed at least 54 lives.
The following day, police received information that the accused persons were gathered at the ZCTU offices holding placards and singing a song denouncing the recently introduced 2% tax on electronic transfers and other monetary and fiscal measures. The protestors wanted to hand over a petition to Manicaland Provincial Affairs minister, Ellen Gwaradzimba. Police reacted swiftly and arrested the activists.
In Harare, the ZCTU national leaders who were also arrested on Thursday, among them president Peter Mutasa and secretary general Japhet Moyo, are expected to appear in court today.
Meanwhile, the police pounced on homes of leaders of ZCTU Central Region at midnight on Thursday to arrest the labour activists.
The arrested include Gweru district ZCTU chairperson Moses Gwaunza, district secretary Bernard Sibanda and central region officer Charles Chikozho.
Sibanda and Gwaunza had, during the day, delivered the labour body's petition at the office of Midlands Provincial State minister Larry Mavhima.
ZCTU regional secretary, Rebecca Butau, confirmed the development and lambasted the heavy handedness by the police.
"I can confirm that police raided our leadership at midnight and jolted them out of the comfort of their homes. They were detained at Gweru Central Police Station for long hours of interrogation by law and order cops. We lambast the arrests that openly violate the rights of our members to peacefully demonstrate," she said.
Butau said other leaders had since gone into hiding.