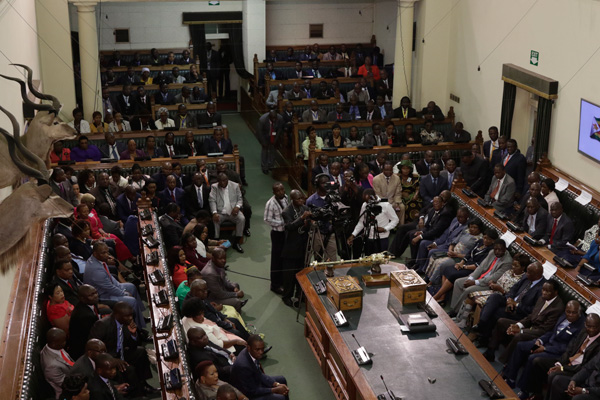 UNITED Nations Women deputy country director Caroline Nyamayemombe has said there has been reasonable increase in women's inclusion in national parliaments across the world over the last two decades.
BY SILAS NKALA
The percentage of women in the legislatures increased from 13,2% in 2000 to 23,4% last year.
Addressing the Zimbabwe Gender Commission's 2018 National Gender Forum held in Bulawayo yesterday, Nyamayemombe said the "Inter-parliamentary women data shows that the global average of women in national parliaments increased from 13,2% in 2000 to 23,4% in 2017 … So it demonstrates that, OK there is progress. The progress is very slow".
"We have witnessed a growing progress in women's leadership. As of October 2017, 11 females were serving as heads of State, and 12 were serving as head of governments. In addition, in January 2017, 18,3% of government ministers globally were women. However, we note that most of these women held the portfolios of environment, natural resources, energy, social sector such as social affairs and education," she said.
Nyamayemombe said there were several lessons to be learnt from countries that have made progress in women involvement in national parliaments and government.
"The first lesson is that instituting affirmative actions and quotas in constitutions or adopting rules that enforce gender quotas in dominant political parties does a lot. For instance, in Burundi, in Rwanda, in Tanzania and Uganda, constitutional provisions established quotas to ensure women's representation and these most target a representation of at least 30%," she said.
"This measure has seen Rwanda achieving the highest female representation in parliament globally, with 56,3% women represented in the lower house. Tanzania has 36% women and currently stands at number 20 in global gender parity, Uganda has 35% women representation and seats at number 21," she said.
Nyamayemombe said another lesson drawn from the assessment was that some countries had imposed legal sanctions on parties if they failed to comply with the gender-based quota requirements.
She said some countries adopted a strategy where in 2012, through civic societies, lobbied political parties had to adopt a style where the parties were required to alternate candidates as to one man, one woman representation during polls, adding this increased the number of women representations in governments.