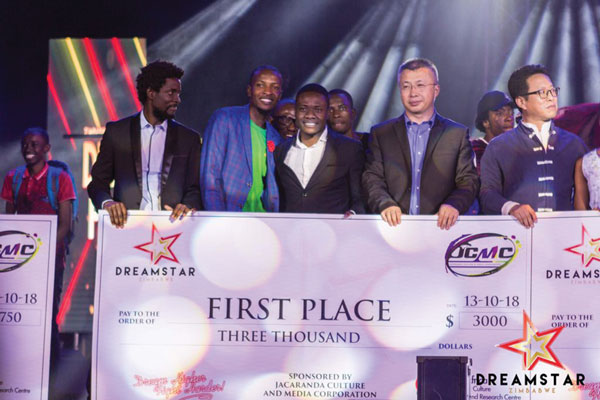 GOSPEL singer Desire Makoni's flare and spirited stage showcase charmed Dream Star Zimbabwe's five judges who crowned him the talent search show's 2018 champion on Saturday night.
BY KENNEDY NYAVAYA
For his sterling effort Makoni, who outclassed 14 other acts on the night, walked away with a $3 000 cheque and a recording deal with the Jacaranda Culture and Media Corporation.
"The other contestants were very good and the competition was intense, but all I can say is I am excited and shocked because I was not even expecting it," Makoni told NewsDay Life & Style after the announcement.
The competition, featuring energetic dancers, singers and a magician, was so intense that none would have guessed that the 29-year old's "churchy" performance would take him through to the top.
"I have always believed in myself and it is good to specialise in an area that you are good at than doing what you are not called for," said an ecstatic Makoni.
Meanwhile, first and second runner spots recorded ties for the first time in the five-year history of the competition between Shelter and 4Go10 Tribe, who pocketed the $1 500 second place price apiece, while the dance duo of Peter and Vein shared the bronze status with Innocent, getting $750 each.
One of the judges, Cindy Munyavi, said they had encountered a hard time separating competitors in the tight contest.
"This year, the performances that were coming out were exceptional. We had a tough time as judges because we were getting similar marks so because they were tallying, we thought why not just let them win because at the end of the day, it is about how well they performed," she said.
The show, hosted at the Harare International Conference Centre, was magnificent and oozed a befitting celebration of the half decade mark.
Dream Star is organised by the Chinese Federation of Zimbabwe in partnership with Jacaranda Culture and Media Corporation and the Chinese embassy in Zimbabwe.