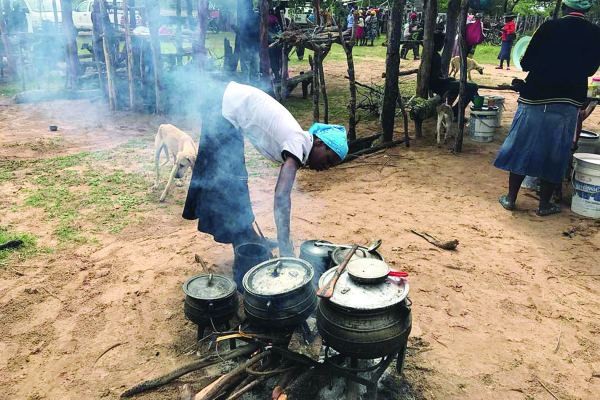 VIDAH Bechani remembers Matso, her eldest child, was the first to fall ill.
BY STEPHEN TSOROTI
At five years, Matso escaped a deadly pneumonia attack, but the condition left her frail and her lungs infected.
Her younger sister, seven-month-old Chipo was, however, unlucky. She succumbed to asthma.
Living in the remote hot and arid area of Matange in Muzarabani in the northern part of Zimbabwe, Vidah was oblivious of the killer that lurked at her homestead every day of her life.
"I only learnt about the killer when I visited Guruve Hospital," said the distraught mother. "I could have lost them both."
Matso and Chipo are just two of many children suffering from a killer condition prevalent in Zimbabwe as well as the rest of Sub-Saharan Africa where many children and women are susceptible to smoke-induced deaths.
Every year, according to the World Health Organisation (WHO), an estimated 4, 2 million people in the world die from exposure to smoke inside their homes.
In Sub-Saharan Africa, more than 39 600 deaths are recorded, making it another leading cause of deaths for women and children in the sub-continent.
WHO observes that many of the fuels and technologies used by households for cooking, heating and lighting present safety risks?
The ingestion of paraffin is the leading cause of childhood poisonings, and a large fraction of the severe burns and injuries occurring in low- and middle-income countries are linked to household energy use for cooking, heating and/or lighting.
"The figures are shocking," said Shepard Zvigadza, director of ZERO, an organisation that works on providing clean and sustainable energy solutions.
According to Zvigadza, women and children succumb to indoor air pollution because of the many hours they spend exposed to fuel wood, charcoal, paraffin stoves and lamps in their homes.
He said such cooking practices were inefficient and used fuels and technologies that produced high levels of household air pollution.
He said alternatives such as Liquid Petroleum Gas (LPG) stove should provide women with a clean, energy efficient means to feed their families.
"Not only does it eliminate deadly smoke inside families' homes, saving lives immediately, it also stops the need to spend many hours searching for firewood," says Zvigadza.
While the Zimbabwe statistical office keeps track of health data of the major causes of death of women and children in the country, desegregated data on deaths related to smoke is still not readily available.
However, a Zimbabwe Statistical Multiple Cluster Survey of 2014 revealed that coal and other solid fuels were major risk factors for pneumonia, acute respiratory infections, and low birth weight among children and chronic respiratory diseases among adults.
The study found out that indoor air pollution levels in Zimbabwe were far above the WHO guidelines.
WHO guidelines were designed to protect public health from health risks due to a number of pollutants commonly present in indoor air.
Clean air is a basic requirement of life.
The quality of air inside homes, offices, schools, day-care centres, public place is an essential determinant of health lives and people's well-being, according to former City of Harare health director, Stanley Mungofa.
"Exposure to indoor air pollution causes significant damage to health globally, especially in the developing countries," he said.
In Zimbabwe about 94% of rural communities and 20% of the urban households use traditional fuels, mainly fuel wood, for cooking.
The rural–urban disparities of access to electricity stands at 83% of households in urban areas and only 13% in rural areas, states the 2012 national energy policy.
The lack of access to energy services dramatically affects and undermines health, limits opportunities for education, and can reduce a family's potential to rise out of poverty, noted Practical Action.
Practical Action is tackling this issue through the use of more fuel-efficient woodstoves, which are both affordable and easy to use; cutting the amount of risky trips for firewood and allowing more trees the opportunity to grow.
Subsequently, burning smaller amounts of wood fuel means less smoke will engulf their homes and their lungs.
The organisation has also developed special metal smoke hoods that sit over a fire, drawing smoke straight out through the roof.
For Bechani, she is happy she still has her children, but the high medical bills are causing her sleepless nights.