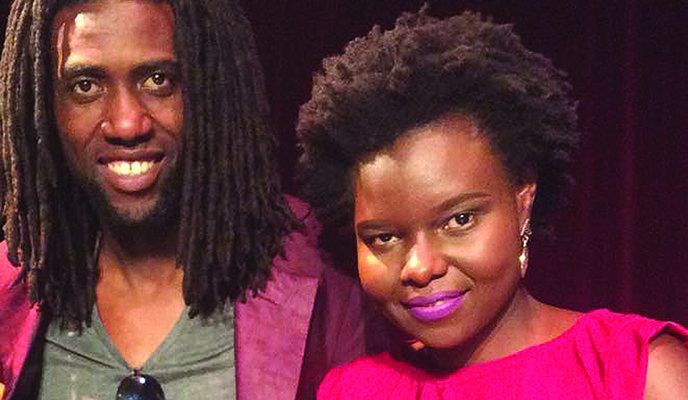 WHEN musician Tendai Manatsa — son of the legendary Zexie Manatsa of the Tea Hobvu fame — first met his wife Selmor Mtukudzi, he tried to ride on his father's name to charm her.
BY WINSTONE ANTONIO
This was after Selmor had joined township jazz artiste Tanga Wekwa Sando's band as a backing vocalist.
Tendai, who was already a member of the band and did not know that Selmor was music superstar Oliver Mtukudzi's daughter, implored Tanga to emphasise to the new band member that he was Manatsa's son.
This was revealed by Selmor in a post on her Facebook wall on Monday: "I first met Tendai Manatsa the first day I got a job as Tanga Wekwa Sando's backing vocalist. He was already the guitarist in the band. Mdara Tanga introduced us and the first thing Tendai said was: 'Mamuudza here kuti ndiri mwana waani' (have you told her whose son am I?). Mdara Tanga replied and said 'Ko iye unoziva kuti mwana waani?' (And do you know whose daughter she is?)".
Selmor said although they became instant friends, they would only start dating two years later, adding that this was despite the fact that the love connection was immediate. "We then only started dating two years after we first met and I knew within the first two months of dating him that he was the man I wanted to marry," she said.
The songbird said the only effective "love potion" was to find someone who understood you.
"It should not be difficult to get along and it definitely should not take you long to know whether you want to spend the rest of your life with that person or not. True love requires no effort. And if you look carefully, the person for you is most probably among your friends," she said in a follow-up interview with NewsDay Life & Style.
She said both parties in a relationship with flourishing individual careers were better off working together because "it is difficult to separate the two, and sometimes that leads to some arguments".
Selmor said they always found a way of ironing out their differences through negotiation and compromise.
"Sometimes fame can get to a person's head that they no longer know who to be a celebrity to and who not to. They want things done their own way, but when you are real with the person you love, you realise that chicelebrity chinosara kunze kwemusha (you don't bring your celebrity status into the home)," she said.