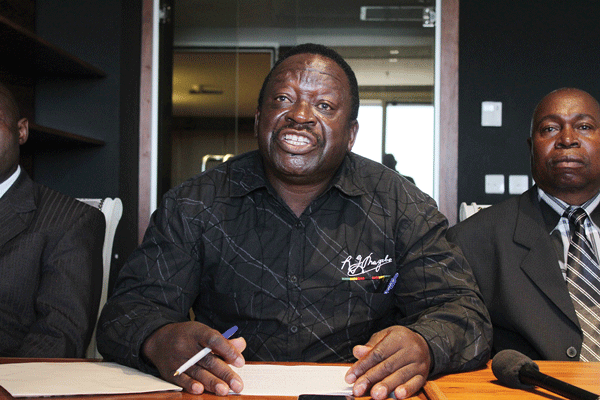 DEFENCE and War Veterans deputy minister Victor Matemadanda last week said ministry officials that did not want to assist former liberation war fighters risked being fired.
BY SILAS NKALA
Matemadanda, who is also the Zimbabwe National Liberation War Veterans Association secretary-general, read the riot act while addressing war veterans at Stanley Square in Bulawayo.
"When you got the job you knew what was expected of you. If you want to be a boss leader, go to your own place because our government is a servant government. Who are you to say you will stay when you are doing things we do not want?" he said.
Matemadanda said his ministry has received a raft of complaints from some war veterans that some ministry officials were not keen to assist them.
He accused some of the ministry officials of sympathising with former Zanu PF members aligned to the G40 faction. He said his ministry was established to serve the former combatants' interests and to assist them and challenged ministry officials with a negative attitude to change as a matter of urgency.
"If you do not want to work with the war veterans, ex- detainees and restrictees, you must leave our offices. There are some officials whom even if we want to send information to war veterans through the ministry offices, they select war veterans to give that information," he said.
"At some point I discovered that they would select G40 members. Even if those G40 members deserve to get that information, are they the only ones available?"
Matemadanda said the officials must not think that because he and others who suffered at the hands of G40 have forgiven those people, they have forgotten what "the G40 cabal" put them through before November 2017.
"Those who do not want to co-operate must leave. We know the people who are a problem. They must change now if they want their jobs. Do not create problems that will result in us firing you," he said.
The meeting, which was attended by war veterans from across the political divide, was, however, characterised by Zanu PF sloganeering, music, songs and dance in praise of President Emmerson Mnangagwa much to the chagrin of some war veterans not aligned to the ruling party.
Matemadanda said the principal director in the ministry, Ezekiel Zabanjana, who was there at the meeting, knew the problematic people in his office and should warn them to toe the line or leave government.