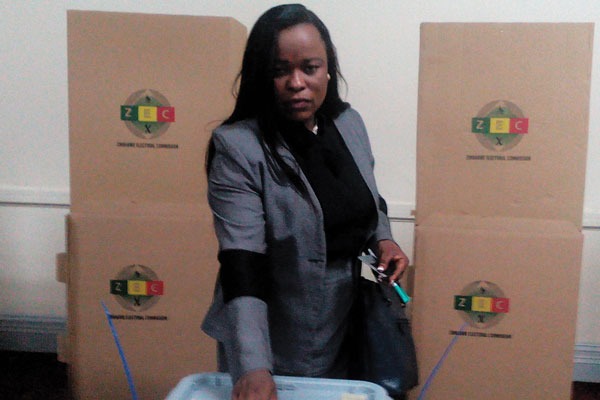 THE main opposition MDC Alliance's deputy chief whip in the National Assembly, Nomathemba Ndlovu, has opened up on her traumatic childhood as a victim of Gukurahundi. Ndlovu, a proportional representation (PR) MP, said as a girl child, she struggled to get an education after the bread winner in her family was killed during the Gukurahundi era. In this interview with NewsDay senior Parliamentary Reporter, Veneranda Langa (ND), the lawmaker (NN) says over 30 years after the darkest episode in the country's history, the wounds are still open and need healing.
INTERVIEW: Veneranda Langa
ND: Who is Nomathemba Ndlovu?
NN: I am a proportional representation MDC Alliance legislator from Matopo in Matabeleland South. I am married with three children, and before I became MP, I was a primary school teacher. Now I am a full-time politician after joining Parliament in 2013 as a PR legislator and this is my second term as MP.
ND: How did you join opposition politics?
NN: I was attracted into politics way back in my childhood because of nasty experiences of the Gukurahundi era. I became a full time politician in 2000 when I joined the MDC. The reasons for choosing opposition politics were that I was heavily-affected by the Gukurahundi where almost half of my relatives were wiped out in Matopo. I grew up as a traumatised child. In 1984, I had the most traumatic experience of my life when two of my uncles were shot in my presence and in front of other school children during assembly at Silozwe Primary School. One of the uncles, Matshatha Tshuma, was a businessperson and my guardian, as well as the breadwinner of our family. His body lay where he had been shot for a long time, and we ended up burying him in a decomposed state. My other uncle, Mvulo Ndlovu, was reburied in July this year after some white people helped fund autopsies to help relatives identify the bones of their relatives that died during Gukurahundi. I was only seven years old when that shooting happened.
ND: As an adult now, how does the incident still affect you?
NN: I was so traumatised to the extent that whenever I would see soldiers in uniform, I would get scared. I am only getting used to soldiers now. As a child, I was also scared of Shona people because of the Gukurahundi trauma. I knew two Shona words and these were "mira ipapo" (stop there), and whenever these were said by soldiers while we were going to school, we would freeze. I saw big boys being tortured and beaten up and young girls were taken and raped. My childhood was so disturbed . . . (MP begins to sob).
ND: So, how do you think the National Peace and Reconciliation Commission should solve the issue to heal the wounds?
NN: The healing process should begin because the wounds are still fresh, particularly for some of us who were directly affected. The people in Matopo and Tsholotsho were the worst affected and there is need for compensation of the victims. If only government can identify Gukurahundi orphans and assist them because they were young when they lost their parents. For instance, my fees were being paid by my late uncle Matshatha, but when he was killed, I struggled a lot to get education as a girl child. I only survived by God's grace until I became an MP. (MP in tears again). Some of the orphans do not have birth certificates and Matabeleland is the worst affected.
ND: How did you rise within the MDC Alliance rank and file to your current position in the National Assembly as deputy chief whip?
NN: I am the MDC Alliance provincial chairperson for Matabeleland South. I am a hard worker and because of that, I was placed first on the proportional representation list because they recognised my work. I have mobilised party women and assisted them to come up with projects, and I gather finances for these projects. Some of them are small things like doing grocery clubs with party women. Whenever they have problems, for example, widows, I assist. So I was appointed deputy chief whip because of my work in the party. The other reason I was appointed was that I am from Matabeleland and a female, and so there was the regional and gender balancing act.
ND: What are your duties as deputy chief whip in the National Assembly?
NN: I control opposition MPs whenever there is noise in the House. My duties also include assisting new MPs with Parliament procedure and how they should contribute to motions or even move motions, as well as procedure for asking questions during Parliament question and answer sessions. I also ensure that there is fairness and inclusion of every MP whenever there are Parliament trips so that they rotate. Basically, I ensure that MPs toe the party line. I feel that I have the respect and confidence of my peers.
ND: What is your view of the current crop of new MPs?
NN: This time there is a mix of powerful and intelligent MPs. It is also a mixture of old MPs that were very vocal during the Eighth Parliament. The young people from the opposition that recently joined Parliament are mostly lawyers, and very educated young people of other professions. They have a great understanding of the Legislature and Bills and this time we are not going to have bench warmers. They have adjusted very fast to Parliament, they research a lot, and Zimbabweans must expect very robust debates in Parliament.