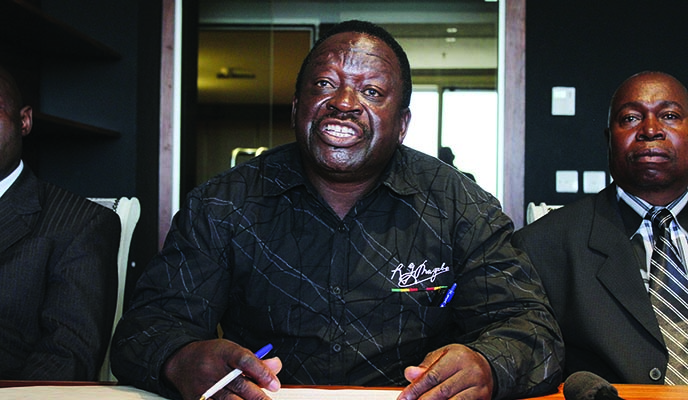 DEFENCE and War Veterans deputy minister Victor Matemadanda last week said the government was prepared to assist former Zimbabwe People's Revolutionary Army (Zipra) combatants establish projects that would sustain them and their families.
BY SILAS NKALA
Speaking at a war veterans meeting in Bulawayo last Thursday, Matemadanda said while some elderly members of the Zipra Veterans Association had indicated that they preferred financial assistance to project financing, it was not proper. Matemadanda said government was prepared to bankroll projects that will also benefit the ex-combatants' children after they die.
"Some of you sometime got Z$50 000 and cannot show what you did with that money. If given the money, what if you die? Will your children benefit? I will not tolerate the idea of saying you want money. What we want is for you to have projects which will benefit your children even after you are gone," he said.
The deputy minister urged the former fighters to have their names registered and state the projects they wanted to pursue.
Speaking on the sidelines of the meeting, Zipra Veterans Association spokesperson Buster Magwizi, however, said government must first return several properties that were confiscated from Zapu at the height of the Gukurahundi era in the early 1980s.
"We have numerous valuable properties which we bought with our own money at independence and were taken by government in the 1980s. We still want them back. The deputy minister is talking about projects to empower war veterans, as Zipra we say why can't they give us back our properties and assist us with capital?" he said.
Magwizi said they were appealing to President Emmerson Mnangagwa to intervene in the matter and facilitate the return of the properties confiscated under former President Robert Mugabe at the height of Gukurahundi in the early 1980s.
"Our properties case is in the courts and we are seeking to repossess them. We are asking President Mnangagwa to intervene so that we repossess our properties," he said.
The confiscated properties owned under the Nitram Investment Holdings Company included the Castle Arms Motel and Nest Egg Building in Bulawayo, Ascot Farm in Solusi, Wood Glen Farm in Nyamandlovu and Hawton Farm in Gweru, Nijo Farm and Salisbury Motel in Harare which now houses the African Regional Labour Administration Centre (ARLAC).
Zipra fighters contributed Z$50 each at independence towards the acquisition of the properties.