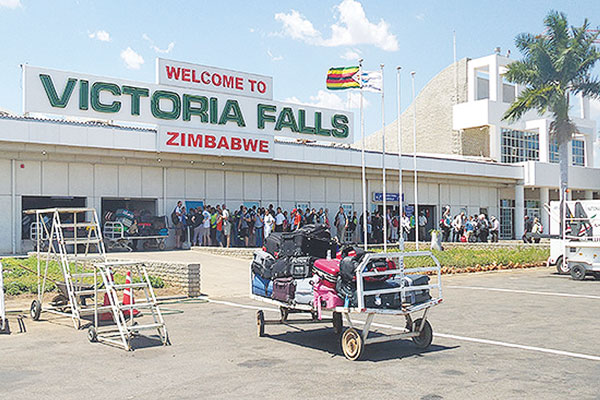 HOTEL and tour operators in the resort town of Victoria Falls have bemoaned the acute fuel shortages and are calling on government to intervene and prioritise resource allocation to key economic drivers before the situation becomes dire.
BY NOKUTHABA DLAMINI
Victoria Falls, like any other town in Zimbabwe, has been experiencing acute fuel shortages with black market dealers taking advantage of the crisis to sell the commodity at exorbitant prices.
Hotels Association of Zimbabwe (HAZ) chairperson Farai Chimba said the shortages were similar to "killing the goose that lays the golden egg" and were likely to impact on tourism revenue during the festive season.
"The shortages are impacting negatively on movement of clients and services that compliment tourism with potential revenue being lost in the process," he said.
Chimba urged government to prioritise resource allocation to key players in the economy and to ensure tourist resorts do not run out of key commodities like fuel.
"Medium to long-term, there is concern that this will slow down on our domestic drive for local tourists who would naturally drive into the resort with the festive season fast approaching.
Self-drive regional tourism has also been reviving well and we would like to keep the momentum going by being ready to ensure travel without concern of fuel," he said.
Employers' Association for Tourism and Safari Operators president, Clement Mukwasi said the companies had done pre-payment plans with fuel stations, but most of them were running out of supplies.
"We cannot do without fuel and if the situation persists, our sector might be seriously affected.
We have regional tourists who prefer road over air travel and those people become stranded when they arrive here and that needs to be urgently attended.
Garages give us fuel because we make payments in advance, but they can't allocate us if there is no fuel completely.
The ministry should intervene and make sure that tourists' services requirements are met with no compromise or delay."
Most public taxis plying the Mkhosana-Chinotimba route have been grounded due to fuel shortages.
Fuel is fetching between $11 and $12 cash for five litres on the black market.
Efforts to get a comment from Tourism minister Prisca Mupfumira were fruitless as she was not picking calls.