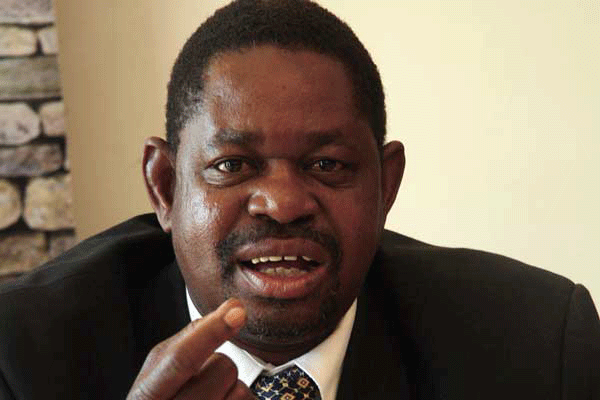 ZANU PF secretary for legal affairs Munyaradzi Paul Mangwana on Tuesday said the narrative that the concept of devolution was a Matabeleland issue was wrong, and that it was being spread by secessionist Mthwakazi Restoration Movement in a bid to curve the country into tribal fiefdoms.
BY VENERANDA LANGA
Mangwana said this while addressing journalists during a Media Institute of Southern Africa (Misa) discussion on devolution in Harare.
"There is no merit in the narrative that devolution is going to benefit the people of Matabeleland alone, and generally that is a narrative which is being spread by Mthwakazi Restoration Movement, but the people of Matabeleland do not even support Mthwakazi, they support Zimbabwe," Mangwana said.
"Devolution is not about creation of a separate state in Zimbabwe, it is not about breaking up Zimbabwe, and that is why in the Constitution we started with the preamble that Zimbabwe is a unitary State, but provided limited self-governance within provincial councils through devolution with local authorities at the lowest level, provincial councils in the middle and the national government," he said.
Last week, 66 Matabeleland civic society organisations met in Bulawayo and drafted a communique to be handed to government, suggesting the campaign was rooted in the desire to control resources found in Matabeleland and play an active citizenship role in their governance.
The organisations said through their lobbying, devolution was included in the Constitution [Chapter 14] and its implementation would boost development in marginalised Matabeleland communities.
Mangwana said the Zanu PF government was committed to implementing devolution, and that President Emmerson Mnangagwa has pledged to follow the Constitution on the matter.
"Devolution means you are giving powers exercised by central government to the other tiers (local authorities and provincial councils) so that power is devolved from the centre to the provinces, but they will not exercise the power of taxation on their own, and they will get their budget [5% allocation] from Treasury to look at their own development," he said.
Mangwana said devolution required an Act of Parliament to be operational.
"What has not been done is promulgation of an Act that will give meat to the skeleton of devolution, and deal with issues like what type of employees are provincial councils going to have, what type of budget so that the Act minimises duplication of responsibilities by the three tiers of government," he said.
The Zanu PF official said provincial ministers had nothing to do with provincial councils, as they were part of the central government, adding that there was no constitutional provision which requires cities such as Harare, Bulawayo or Masvingo to have a provincial affairs minister.
"I cannot give a timeframe of when devolution will be implemented because I am not in government, but there is political will to do so," Mangwana said.