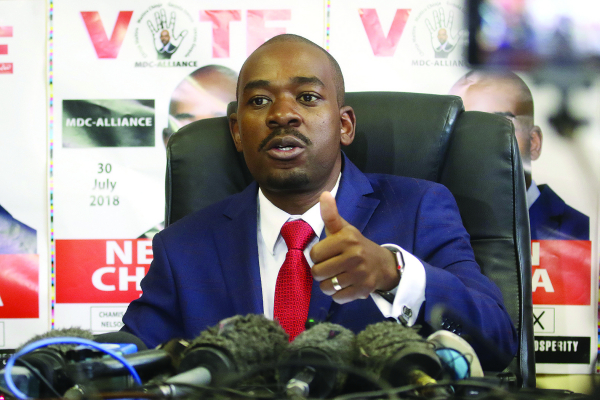 MDC Alliance plotted a coup and attempted to use the violent demonstrations, which rocked Harare post July 30 elections, to unseat President Emmerson Mnangagwa's government, the Commission of Inquiry into the August 1 shootings heard yesterday.
BY BLESSED MHLANGA
The public hearings conducted by the commission chaired by former South African President Kgalema Motlanthe ended in Harare yesterday and will be moving to Bulawayo, Gweru and Mutare before resuming in the capital on November 10, where members of the police and soldiers would testify.
Zanu PF activist Tafadzwa Mugwadi, giving evidence before the commission, claimed had the army not stepped in to quell the demonstrations, MDC Alliance leader Nelson Chamisa would have used street uprisings to become the next leader of Zimbabwe.
"The demonstrations were rehearsed, they were a delayed match, it was not spontaneous," Mugwadi claimed.
"The MDC leader wanted to use the street demonstrations to remove the government and bring themselves into power with the help and funding of non-governmental organisations which fund their activities."
But researcher Makomborero Haruzivishe was of the view that the military was responsible for the violence following statements by top Zanu PF, among others former Finance deputy minister Terrence Mukupe and former Masvingo Provincial Affairs minister Josaya Hungwe, that the army would use force to keep the ruling party in power.
"We had been told time and time again by senior government officials, senior authorities, members of the Cabinet about what I then saw happening that day," Haruzivishe said.
"If you go back to December 15, 2017, the adviser to President Mnangagwa, Christopher Mutsvangwa, said at a Zanu PF function that we will mobilise heavily and working with the military to make sure that we win the 2018 elections."
Haruzivishe went further to attack the credibility of the commission, particularly Rodney Dixon, whom he accused of doing a hatchet job for the government of Sri Lanka during a similar commission.
"It is not your CV that worries me, but things that you have done. Like I told you, I am a researcher and I know that you participated in a commission similar to this one in Sri Lanka," he said.
"There was an outcry when you and other members of your team were paid $400 million and with your coming here, taxes have been raised. Tell me how much you are being paid because you are not here for free? I am concerned that you might just be here to cleanse the atrocities of August 1."
Dixon had attempted to assure Haruzivishe that his CV, which states that he speaks on behalf of army commanders, governments and politicians, would not affect his work as a commissioner.
Before the exposé by Haruzivishe, scrutiny was being limited on the Zimbabwean commissioners, mostly the University of Zimbabwe duo of Charity Manyeruke and Lovemore Madhuku, who are also Zanu PF and National Constitutional Assembly members respectively.
Haruzivishe asked Motlanthe to also keep an eye on Madhuku, saying his supporters could also have been part of the violence. He said after Madhuku lost the presidential polls, his supporters could also have been agitated that the polls were rigged. He said he saw soldiers indiscriminately firing live bullets towards fleeing people and a number of armoured vehicles that stormed Harare.
"I met a person who had been shot in the leg and another in the arm as they ran for dear life. I also joined in (fled) because I feared for my life," Haruzivishe said.
There were lighter moments when he said Mnangagwa should have ordered the soldiers onto the streets because had he not done so, he would have fled the country.
"President Mnangagwa is known for running away when in trouble, so if he had not sanctioned the military action on August 1, I am sure he would have also run away. Mnangagwa ran away from a statement of expulsion, what of guns?" he asked.
Motlanthe again assured the public that his commission would not take any sides and would produce a report of integrity by November.