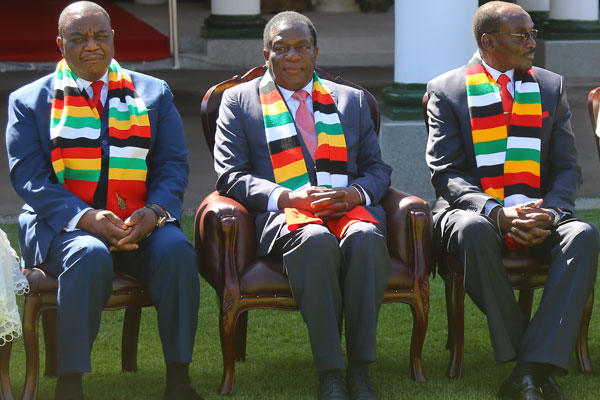 ZIMBABWEAN President Emmerson Mnangagwa, following a disputed narrow victory in July which had to be validated by the Constitutional Court in August, appointed a new Cabinet on Friday, September 7.
This highly-anticipated Cabinet, which was to be a test of whether Mnangagwa was turning the curve on patronage appointments hinged on recycling deadwood, has seen him straddle a fine line between the politics of patronage and meritocracy.
The 20-member Cabinet has six women (30%), with Oppah Muchinguri-Kashiri being the first Zimbabwean female Defence and War Veterans minister. Mnangagwa also appointed 14 deputy ministers and in an unfortunate and unconstitutional move, also appointed 10 Ministers of State for Provincial Affairs.
The illegal appointments negate devolution of power, which the Constitution provides for.
While a lot of excitement has been generated by the introduction into the governmental fold of the likes of Olympic gold medallist Kirsty Coventry and finance lodestar Mthuli Ncube, politically, on the biggest developments is the deployment of Muchinguri-Kashiri to replace Vice-President Constantino Chiwenga, who had illegally been holding two positions in the previous government. While topical, there has been more heat than light regarding the motive behind the removal of Chiwenga.
Speculation is rife that the move is a result of the former army supremo coming under fire from the public on allegations that he had ordered the military killing of seven protesters on August 1. Clearly, the reason is not the illegality of holding two public offices, in light of Mnangagwa's unconstitutional appointment of the so-called Ministers of State for Provincial Affairs.
The August 1 incident left Chiwenga in a weaker position and Mnangagwa could be exploiting this opportunity to consolidate his grip on power, through weakening the putative alternative centre of power. For, in a country where the gun leads politics, whoever controls the military has a political advantage and Muchinguri-Kashiri's appointment will, in the fullness of time, water down Chiwenga's influence and grip on the "gun".
In this respect, Mnangagwa could be coup-proofing himself through taking military oversight and control away from the Zezuru ethnic man (Chiwenga) who, in November 2017, showed he was unafraid to use it to topple a sitting President. Muchinguri-Kashiri's appointment also means that for the first time since independence, there's no one from the Zezuru ethnic group in the military elite.
The new Defence minister is a Manyika, so is the head of the army. The Commander of the Zimbabwe Defence Forces, the Airforce boss and head of intelligence are all from the President's ethnic group, the Karangas.
However, away from the presumed political power play at the Ministry of Defence, patronage politics, which is part of former President Robert Mugabe's legacy, still lingers and clings on to the fibres of Mnangagwa's Cabinet appointments.
The two retired generals, Perrance Shiri and Sibusiso Moyo, who led the military coup in November 2017 with VP Chiwenga, have retained their respective Agriculture and Foreign Affairs ministerial posts.
Mnangagwa's close confidants Joram Gumbo and July Moyo, who received a political life jacket after he lost in the National Assembly election, both found vacancies in the new Cabinet, getting the Energy and Local Government portfolios, respectively. Other staunch Mnangagwa supporters like Kazembe Kazembe, Energy Mutodi and Larry Mavima have been given space as ministers, deputy ministers and (Midlands) Minister of State, respectively. In essence, the bulk of Mnangagwa's appointments are patronage appointments, but stacked in a fashion that shows whose patronage he values, with the military, especially the coup plotters, owed the most, followed by unwavering Mnangagwa supporters, mostly of the Karanga ilk, with the war veterans and civilian Zanu PF members faring badly, particularly as seen from the limited accommodation of war veterans leaders in the government.
War veterans chairperson Christopher Mutsvangwa continues to wallow in the wind and if lucky, may retain his place as adviser, while his wife has earned a ministerial place at the Ministry of Information, which the husband has eyed for a while.
The Cabinet is not all bad and neither is it all patronage. In a clear effort to harvest both domestic and external legitimacy, Mnangagwa made some refreshing appointments, with Professor Mthuli Ncube's selection as Finance minister being the major highlight. Ncube is a Cambridge University-trained Financial mathematician who has taught at The London School of Economics and Oxford University. He is also a former vice-president of the African Development Bank and if given necessary political support, can play a key role in turning around the economy.
Ncube's appointment is clearly merit-based, which will play well in the global and local politics arena and will aid Mnangagwa's efforts at building performance legitimacy after his procedural legitimacy got tainted by a disputed election on July 30.
Other appointments similar to Ncube's are Winston Chitando in Mines, Kirsty Coventry in Sport, Joel Matiza in Transport, and professors Amon Murwira and Mavima in the education ministries.
Ncube and others in his cohort will have to swim with sharks without being swallowed. Zanu PF's patronage culture, command politics and some institutional legacies will be critical binding constraints to the technocrat's efforts at ensuring fiscal discipline, and transforming the economy. These tasks are made worse by the relocation of power, in real terms away from the Cabinet to the ruling party, especially its politburo.
While citizens celebrate the demise through non-appointment of some heavyweights like Zanu PF's administration secretary, Obert Mpofu, former Finance minister Patrick Chinamasa, former Industry minister Mike Bimha, former Health minister David Parirenyatwa, as well as the likes of Munyaradzi Paul Mangwana and Christopher Mutsvangwa, it is possible that the locus of decision making and power has shifted.
Some of these stalwarts will no doubt find their mojo through the relocation of political power to the party, which the Cabinet appointments facilitates.
In the final analysis, it has to be remembered that Mugabe once appointed a technocratic Cabinet which gave people hope, but the technocrats failed to steer the necessary reforms, citing excessive political interference and blackmailing as key challenges.
Nkosana Moyo, who was a technocratic pick in that Cabinet, resigned and another technocrat, Simba Makoni, who was Finance minister, was fired.
It is possible that a similar fate awaits this good-looking crop of new entrants on the Zimbabwean government's gravy train.
 Washington Katema is an international development consultant and a democracy, human rights and governance specialist.