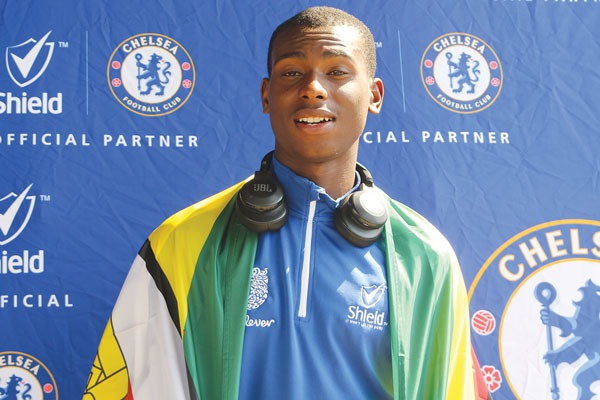 Local teenage football star and the winner of the Shield-Chelsea next champion competition, Joseph Mandevani left the country yesterday for London, England where he would get a once in a life opportunity to train at English Premier League side Chelsea's training ground Cobham.
BY GARISH PHIRI
The 19-year-old is part of the Africa XI team that would play an exhibition match against the club's legends, rubbing shoulders with the likes of John Terry, Frank Lampard and Didier Drogba.
"The feeling you can't explain it, it's more than just being happy. I am grateful to go to London today (yesterday). I am expecting a lot going to London, going to one of the best teams in the world. Meeting great coaches and players like Drogba (Didier) and Lampard (Frank) and training, am expecting to learn a lot from them," Mandevani said.
He is the winner of the talent search competition by Unilever through their leading brand Shield which saw Chelsea development coaches arriving in Zimbabwe to identify a player that would link up with other stars picked from across the continent to make the Africa select team.
"I think it's going to improve my knowledge as a person, my understanding as a footballer. The teachers from here and Chelsea are different so am going to learn a lot. I am going to get a lot experience out of it," he added.
Local coaches that helped in the selection included former Warriors mentor Kalisto Pasuwa, Alois Bunjira, Naison Muchekela and Cosmas Zulu.