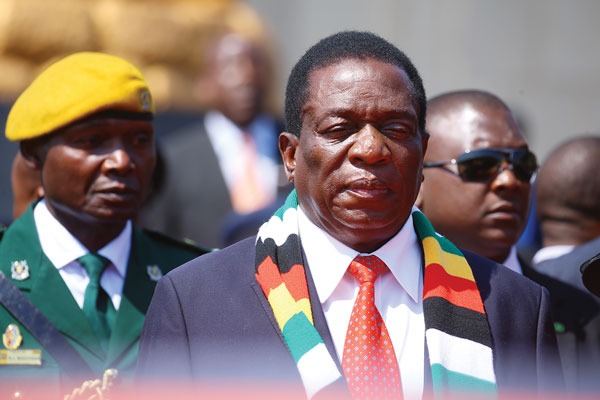 JOSTLING for Cabinet posts by Zanu PF members has taken a nasty turn, with the party's "Young Turks" urging their seniors to politely excuse themselves from the race ahead of announcement of a new Cabinet by President Emmerson Mnangagwa, most likely this week.
BY BLESSED MHLANGA
This came amid fears that Mnangagwa could recycle old ministers in an effort to appease them after they helped elevate him following former President Robert Mugabe's ouster last November.
A top party insider yesterday said there was massive campaign to force the party's "career ministers" to excuse themselves from the race and allow Mnangagwa to freely choose new brooms for his new government.
"We are having this conversation in the party. For instance, look at most of them, they are old now, but it would be difficult for the President to dump them without causing some discord. If they volunteer to say, 'Please President, don't consider me for selection', it makes it easier," the source said.
Zanu PF's United Kingdom branch chairperson Nick Mangwana, who is currently in the country, confirmed the fierce fights, without naming any targeted party bigwigs.
"I would expect some of my leadership to make life easy for my President by making themselves 'unavailable' for selection to Cabinet posts. There is a lot to cherish in retirement. If one didn't put a stash aside all these years, then in all likelihood, it ain't (sic) gonna happen now," he said.
Mangwana said he believed that only technocrats and Young Turks had the capacity to fulfil Mnangagwa's new governance thrust.
Contacted for comment, Zanu PF spokesperson Simon Khaya Moyo said selection of Cabinet ministers was Mnangagwa's prerogative, adding none of the top party officials could turn down an appointment. "I have not heard of that conversation within the party, but what I know is that it's the prerogative of the President to appoint the Cabinet, so we can't speak on issues of speculation on things that have not yet happened," he said.
Khaya Moyo said he would not turn down a Cabinet post offer.
"I have not been offered a ministerial position and I will not speculate. I am not that kind of person who discounts themselves in advance," he said.
Khaya Moyo has been a survivor in the Zanu PF political matrix, after surviving the purge against then Vice-President Joice Mujuru and later survived another onslaught targeting former President Robert Mugabe's allies although he had read out a statement announcing then Vice-President Mnangagwa's expulsion at the height of Zanu PF internal fights last year.
He ironically, as both party and government spokesperson, had the invidious task of announcing the expulsion of Mujuru, Mnangagwa and Mugabe, but miraculously survived the purges.