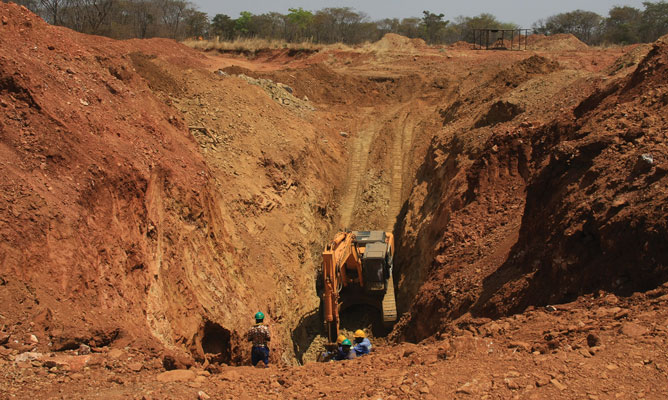 Zanu PF Matabeleland South senator, Alma Mkhwebu has sued miner, Ntaten Amon Ndou seeking an order compelling him to vacate a mining claim that she says legally belongs to her.
BY SILAS NKALA
Mkhwebu filed an application at the Bulawayo High Court last week citing Ndou as the first respondent, provincial mines director Matabeleland South, Tichaona Makuza, assistant sheriff of the High Court, Gwanda, and the officer in charge Collen Bawn police as second to fourth respondents, respectively.
In her founding affidavit, Mkhwebu said she was seeking an order to evict Ndou and his workers from her mining claim known as Sally II (GA 2033) on which Ndou is unlawfully extracting minerals.
"The eviction is sought in pursuance to an extant determination of encroachment made by the second respondent (Makuza)'s predecessor in office," Mkhwebu submitted.
"I am the registered claim holder of the mining claim known as Sally II (GA 2033) which was registered in my name in September 1999 and is current. The first respondent on the other hand is the claim holder of a Sally 22 registered in October 2013 and is approximately 800m adjacent to my mining claim."
Mkhwebu said in 2013, Ndou started mining on her claim without her consent, leading her to lodging a complaint with the Mines office.
Mkhwebu said a Ministry of Mines committee was set to investigate the boundary dispute.
"On February 3, 2017 a hearing was duly conceived in which both myself and the first respondent were called upon to make representations. The hearing was not conclusive due to divergent positions of the parties and it was recommended that a site visit with survey department be arranged for the location of the exact positions," she submitted.
"On January 20, I and first respondent attended the site visit. The field visit was led by the regional mine surveyor and Geologist who were to… determine whether the mining shaft from which first respondent was working on fell within my mining claim. The surveyor carried out a Global Positioning System (GPS) to find the exact co-ordinates from which the disputed shaft was being worked."
She said the surveyor indicated that Ndou had encroached into her mining claim. She said Makuza's office then made determination on April 16, 2018 that Ndou was carrying out his mining activities on her claim and ordered him to stick to the confines of his claim. She said instead Ndou sought a court interdict against the determination which was later withdrawn due to lack of merit.
Mkhwebu said on July 11 Ndou was advised by the police to effect the Ministry of Mines determination, but he defied them.
Mkhwebu said the only solution was for Ndou to be evicted.
The respondents are yet to respond to the application.