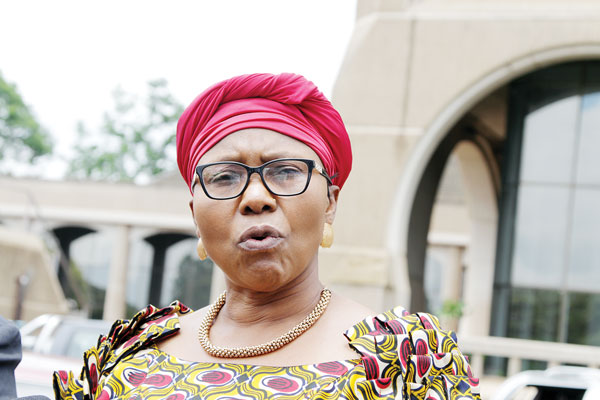 ZANU PF's former Manicaland provincial vice-chairman Joseph Mujati has been banned from carrying out party activities on allegations of decampaigning provincial chairman, Mike Madiro, as factionalism continues to rock the ruling party.
BY KENNETH NYANGANI /OBEY MANAYITI
Mujati is believed to be closely linked to Manicaland political "godmother" and Zanu PF national chairperson, Oppah Muchinguri.
According to a letter dated September 7 and signed by Zanu PF Manicaland secretary for legal affairs, Tasin Dube, Mujati is alleged to have called for the ouster of Madiro's executive during a provincial executive committee meeting held in Mutare last month.
The letter was copied to the provincial leadership.
"Following your behaviour at a provincial executive meeting held on August 22, 2018, you are hereby issued with a prohibition order in terms of article 10 section 74(1) of the constitution," the letter read.
"In terms of this, with immediate effect, you must forthwith desist from carrying out party activities until the disciplinary proceedings against you have been concluded.
You are invited to a hearing on Wednesday the 19th of September at the provincial offices in Mutare, time 0800 hours and you are free in terms of section 69 of Article 10 to bring a representative.
The representative should be a card-carrying member of the party."
Dube said Mujati openly called for the removal of the provincial leadership alleging incompetence, thereby undermining its authority and tarnishing the image of the party.
"This action is tantamount to gross misconduct and insubordination.
You openly proved that you do not support the new dispensation and fanning factionalism even after the re-assignment," the letter further read.
Madiro, who was recently appointed Home Affairs deputy minister, said there was nothing sinister with the prohibition order, adding Mujati could only be found guilty after a full hearing.
Mujati confirmed receiving the prohibition order.
"I have been served with the papers which you are referring to.
This is a party process which should not be allowed to play up in the Press," he said.
"There is no doubt that I am one of the few in the provincial executive who fought the Grace Mugabe, Jonathan Moyo, Saviour Kasukuwere G40 cabal from the front and that was not a walk in the park.
Those who bring these charges against me were having it good in some hotels during this time, but surprisingly it is the same people who now want to claim ownership of a people's project."
Madiro is accused of targeting his perceived enemies after the dismal performance of President Emmerson Mnangagwa in Manicaland in the July 30 elections.