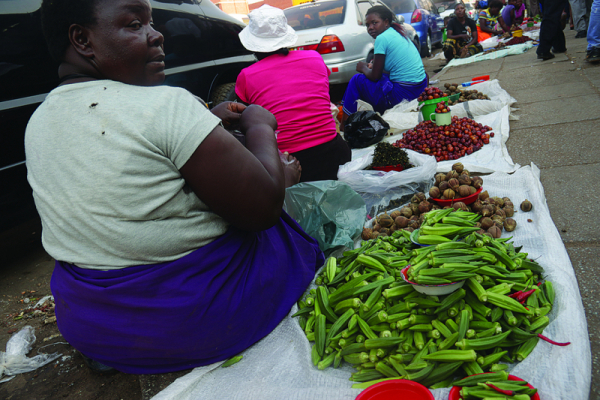 THERE'S no debate that vendors had become an eyesore and somehow a nuisance on the streets of urban centres around Zimbabwe, because of their tendency to invade pavements and large swathes of streets with their trolleys, boxes and carts.
There's also little debate over public health concerns that their 'fresh' fruit and food business could be an active carrier of cholera in the advent of an outbreak like the one the country has experienced in recent weeks.
Consequently, anyone proposing a crackdown on vendors to clean up the streets and restore order has good grounds for such hardline measures. In fact, it's the most dominant view of urban councils and the police in letting the great axe fall on vendors.
However, from a socio-economic perspective, with the eyes of the greater cause principle, the decision can be called cruel from a social standpoint and wantonly reckless from an economic perspective.
For one thing, the crackdown on vendors has destroyed the livelihoods of an agglomeration of people excluded from the formal economy and made vulnerable by mainly policy-induced poverty.
Policy-induced poverty is sometimes referred to as "pauperisation" in order to distinguish it from vulnerabilities created by economic imbalances.
The actions of urban councils and the police befit the description "pauperisation", because they constitute a downright subversion of the principle of the "greater cause" in destroying the only source of income for those with informal employment in the absence of State-aided social safety nets and social insurance.
The victims are mostly people who struggled to earn $3-$5 for daily upkeep.
It is immoral of government, whether central or local, to institute measures that are socially unsustainable for there is no cause, in terms of universal human rights, for depriving a living human being of their only means of survival.
How convenient then that this clean-up exercise happens just after elections, with no political prize at stake!
The so-called reforms are ill-timed and wrongly sequenced in that the semi-formalised alternative market proposed by the State is far removed from human traffic, which is key to sales.
Secondly, the proposed market is hardly developed enough to prevent the spread of cholera.
Thirdly, the formalisation approach adopted is too sudden to avoid the creation of social strife. Some of the vendors are middlemen who would lose out should fees, which trim margins, be imposed.
For another, the crackdown has shaken the foundations of an informal economy, which served as a "shock absorber" to the small economy, which employs less than half the people engaged in self-help activities and serves low-income populations.
According to a 2016 International Monetary Fund report, the economy of Zimbabwe is over 60% informal. Petty commodity traders, those we call vendors, are an important part of this economy, which over three decades has well-developed value chains.
Fresh fruit vendors, for example, have strong backward linkages with producers or farmers, transporters and input suppliers and their bankers.
The chain is endless. The crackdown on vendors has not just destroyed jobs; it has also weakened value chains, which sustained the formal economy through forward and backward linkages.
In fact, one of the reasons why Zimbabwe's economy has managed to withstand more than three decades of crises is its highly informalised structure, which serves as a fall-back for the unemployed and those with entrepreneurial ambitions.
The effect of destroying value chains is clearly epitomised by the land reform programme, which weakened agro-processors and the larger economy.
The effects are likely to be reflected prominently in national economic data because the informal economic activities often go unrecorded.
It will be reflected more in social indicators.
The crackdown is ill-advised and needs reconsideration.