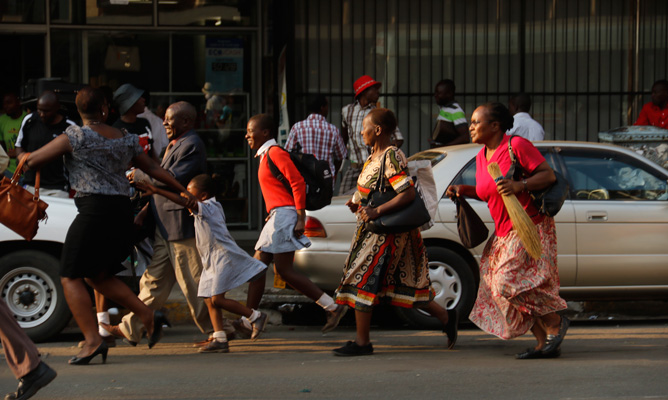 THE police blitz on vendors in major towns has spread to Masvingo, with soldiers and the police clearing the city at the weekend as government responds to the outbreak of cholera that has claimed 30 lives so far and left thousands infected.
BY TATENDA CHITAGU
Riot police and the soldiers took the vendors by surprise on Sunday in Masvingo town and Zaka and forced them off the streets.
NewsDay witnessed the blitz on Sunday in the Masvingo CBD.
By yesterday morning, the city had been cleared of vendors, but some defiantly trooped back as the day progressed.
"We were beaten and told not to return.
Some lost their wares and others got injured in the process," a vendor from Zaka Growth Point told NewsDay over the phone yesterday.
Another vendor in Masvingo City said they did not resist the order and just ran away for fear of being assaulted.
"They did not give us a warning. They just came and ordered us off the streets.
We did not resist for fear of being beaten because they were armed to the tooth," she said.
Masvingo provincial police spokesperson, Inspector Charity Mazula did not respond when contacted for comment yesterday.
Masvingo has so far recorded one cholera death which health officials traced to Harare.
Government has declared the disaster a state of emergency.
Vendors Initiative for Social and Economic Transformation director Wadzai Mangoma said: "We are against the move by the government.
It's illegal! Vending has always been there.
We call upon the government and all its agencies to stop the evictions now and deal with the issue of provision of clean and potable water and collection of garbage.
Vendors are trying to survive in these harsh economic circumstances."