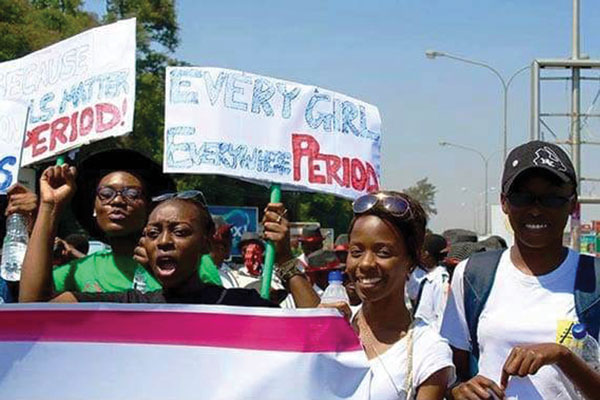 BINGA — When women activists tried to push the government, sometime early this year, for sanitary wear to be given to women for free through various campaigns, the nation thought they had gone berserk.
BY FARAI SHAWN MATIASHE
But such a campaign — if it had found takers — would have made a difference for 15-year-old Thandekile from Siyachilaba in Binga, about 350km from Bulawayo, who has not had access to sanitary ware in a very long time.
She told NewsDay Weekender that she has been forced to use rigged cloth and recycled cotton as sanitary wear.
"I cannot even remember when I last used (menstrual) pads because they are out of my reach, so I use material I take from old bed mattresses as pads," said Thandekile, adding that her family could not afford to buy her the pads.
Whatever little money available is committed to her school fees.
Binga, which is located south of Lake Kariba in Matabeleland North province, is one of the most under-developed districts in Zimbabwe with poor infrastructure and road network which makes accessibility a nightmare during the rainy season.
This has seen most products becoming expensive and the pads — which cost from as little as $1,20 in some city shops — are available for anything between $2 and $3. From Siyachilaba, one has to walk for between 5km and 10km to get to the nearest shops.
It is against this background that teenage girls in Binga have resorted to the use of cotton and rigged cloth as sanitary wear and many have recorded absenteeism from school during their time of the month.
"At times I just decide not to go to school because some of the pieces of cloth I use are not comfortable when walking for long distances or even when seated," said Sifiso, a Grade 7 pupil.
"I cut out some T-shirts made of soft fabric into small pieces which can fit inside my pant. After use I wash it for later use."
The sister-in-charge at Sunrise Children's Home, Faustina Rumuna, confirmed many young girls in Binga used cloth from women's wrapping cloth — commonly known as Zambia — as sanitary wear.
"Young girls in some parts of Binga cut out pieces of cloth and make their own model of pads which they recycle," she said.
She said it was not hygienic and it made them lose confidence in themselves when interacting with others especially at school.
"The challenge of access to sanitary pads often leads to absenteeism with a monthly trend where most girls here miss four to five schooling days because when on their menstrual periods they fear being booed by their classmates after spoiling uniforms as a result of using improper sanitary wear," said Rumuna.
She said the provision of sanitary wear can therefore lead to consistency in education attendance with improved confidence and self-esteem among girls.
In Siyachilaba community at Gaza Primary School, there are some women who have volunteered to sew reusable pads for young girls and this has been seen by other women as a relief, but this has not spread to all parts of Binga.
"In order to keep young girls in school, there are some female groups who make recyclable pads using thick materials and donate to young girls in schools," said Shupani Mudimba, a mother of two.
Sanitary wear issues are vital to women and girls' reproductive health, but society tends to turn a blind eye. Using alternatives such as pieces of rags as sanitary wear can result in rash, urinary tract infections, vaginal infections, fungal and yeast infections and possible cervical cancer.
The infections are harboured in unhygienic sanitary materials.
Chiedza Community Welfare Trust director, Gladys Mukaratirwa, said there was need to classify sanitary wear for adolescent girls and young women as a basic right and should therefore be available at subsidised prices.
"Menstrual health should be treated with respect as without menstrual cycle there is no human offspring. Menstrual cycle is a means to human offspring and therefore no woman should be stigmatised or marginalised because of it but rather be treated with honour and given dignity," said Mukaratirwa.
She said the prices were so deterrent that the need for free provision in schools was inescapable.
"Menstrual health awareness should be given to boys, so, they embrace what girls go through and not embarrass them," said Mukaratirwa, who also designs certified reusable sanitary pads.
She said there was need for men to provide a budget for sanitary materials for the girl child in their households and urged young girls not to feel ashamed to request money to buy sanitary pads.
Shamwariyemwanasikana monitoring and evaluation officer, Natasha Ruya, said using rigged cloth and recycled cotton caused menstrual cramps, infections and skin rashes.
"Rigged cloth and recycled cotton are not super absorbent as they do not absorb all moisture in the vagina increasing chances of severe pain and infections. They do not have a waterproof lining sewn inside to prevent leaking thus making it difficult to clean," she said.
Ruya said prolonged use of recycled cotton in a day meant an overgrowth of staphylococcus aureus bacteria — a gram positive rounded shape bacterium frequently found on the skin inside the vagina.
"Recycled pads should be given out to such communities as they are non -leaking, hygienic, comfortable, environmentally-friendly, affordable and quality guaranteed," she said, adding that her organisation in partnership with the United States Embassy was donating recycled pads to underprivileged girls in communities such as Seke and Murewa.
She said menstrual education helps in curbing infections and promotes hygiene, thus it was important to engage the community in menstrual health education because menstruation was regarded as taboo in some communities and sanitary wear issues were not taken seriously by societies yet they were important to women's reproductive health.
Earlier this year, women's rights lobby groups and feminists took to the streets to demonstrate in a bid to push government to consider free provision of sanitary wear.
According to a recent study conducted by Zimbabwe National Family Planning Council (ZNFPC), 72% of girls do not use sanitary wear during menstruation but materials such as cow dung, rags, cobs and newspapers and they missed 104 hours of school per term.