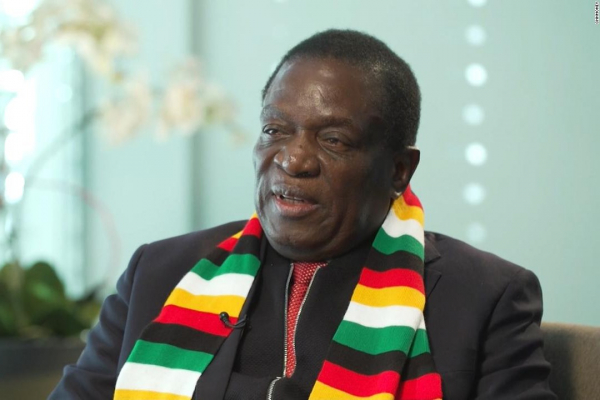 It is clear that Zimbabwe's new Finance minister Mthuli Ncube is not a shy man and neither is he a coward. He would have been aware, weeks in advance, that he would be appointed Zimbabwe's Treasury chief.
But that did not stop him from authoring several op-eds in the local media before his arrival was made official, where he detailed Zimbabwe's shortcomings and how he thinks they can be addressed.
Clearly, he is a patriotic Zimbabwean. By his own account, in January this year he arranged and sponsored a luncheon with Swiss and European business community, for the visiting Zimbabwe President and his ministerial delegation, in Zurich Switzerland.
This event, he says, was part of the "Zimbabwe is open for business" agenda.
In April last year, even before the watershed events of November which toppled long-time ruler Robert Mugabe, he chaired and moderated an event on investing in Zimbabwe in Abidjan, Ivory Coast, which was attended by Mugabe, along with the president of Afreximbank, Zimbabwe ministers and the business community.
He has a clear idea of what he thinks would make Zimbabwe work. The most critical issue and of immediate concern is that of currency reforms.
Bond notes, he said, must be gone by December.
But, as reported by our sister paper, The Zimbabwe Independent, fiscal and monetary authorities told Ncube that his proposals on currency reforms such as dollarisation, joining the Common Monetary Area of the Rand or re-introducing the Zimbabwean dollar – were dead on arrival.
Bond notes, Ncube has said, had become a Zimbabwe dollar by another name, but "without the macro-economic credibility to support them".
"I was one of the people who were of the idea that Zimbabwe should adopt the rand and join the Rand Monetary Union for a seven to 10-year period.
This is because South Africa accounts for 80% of Zimbabwe's trade. So clearly, you want a currency that is linked to your largest trading partner.
But I don't think I want to argue that now because things have moved on and we are at a new juncture," he said.
On bond notes he said: "What I would argue now is that we remove the bond notes currency because it is becoming a surrogate currency to the Zimbabwean dollar without the macro-economic credibility to support it.
The bond note currency is bad money and we know that in economics, bad money drives out good money.
"It's not surprising that the US dollar is now in short supply because people are not banking them.
So the immediate course of action is to remove the bond notes and then let the US dollar become the core currency, but over time we have to bring back the Zimbabwe domestic currency.
That's what will deal with liquidity issues in a big way.
Ncube's line of thinking is not irrational. And toeing the line of the politically correct will not help take this country forward.
Bond notes, even allowing for their chaotic introduction, are bad money and have contributed massively to the distortions in the currency market.
If President Emmerson Mnangagwa saw in Ncube a man to move Zimbabwe from its current mire, he must let him take the bold moves needed to steer the ship in the right direction, however painful.
His predecessor at Treasury, Patrick Chinamasa used to tell the International Monetary Fund officials that Zimbabwe was "ready to take the pain of reforms" to become a viable member of the international community again, only to be undercut by Mugabe, who was loathe to abandon his populist policies regardless of the harm they were causing to the economy.
Mnangagwa has made reviving the economy the key pillar of his presidency and we believe his choice of Ncube is bold and welcome, but he must let him get on with the mission at hand.