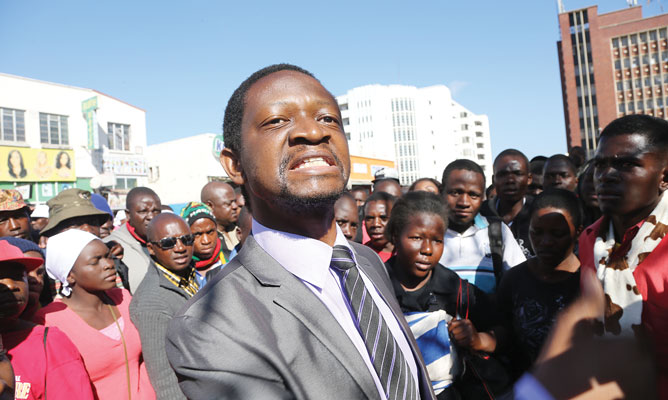 The National Vendors Union of Zimbabwe (Navuz) yesterday started mobilising its members to leave undesignated vending sites in Harare's central business district today in order to contain the cholera outbreak which has so far killed at least 25 people while over 3 700 have been hospitalised.
BY XOLISANI NCUBE
Navuz leader, Sten Zvorwadza yesterday held a joint Press conference with Harare City Council where he urged his members to leave the streets by today to curb new cholera infections.
"We don't believe in being confrontational, but we are saying, let us save our lives and ensure we curb the spread of typhoid and cholera. Council is not saying vendors are spreading cholera, but we are trying to minimise chances of spreading the diseases," Zvorwadza said.
Harare has been declared a cholera hotspot although the outbreak, has spread countrywide with cases being reported in several other parts of the country.
In a bid to prevent the spread of the outbreak, government is today expected to embark on a clean-up programme in the city centre with vendors being the main target.
Council spokesperson Michael Chideme confirmed members of the informal sector were being urged to voluntarily move off the streets in the CBD beginning today to designated trading sites.
"This appeal comes in the wake of the cholera outbreak in Harare which is now spreading to other cities and towns and provinces. We have taken this action in the interest of public health. We are in constant engagement with the leadership of the informal sector to map sustainable solutions," Chideme said.
Zvorwadza said he was now working on an ambitious project to ensure that vendors could be empowered and leave streets for "better investments".
In his presentation, Zvorwadza said he had partnered with the National Building Society, POSB, Tel-One and NetOne for an economic empowerment initiative.
"Navuz has partnered with State institutions with a view to support and strengthen their capacity as well as uplifting its membership so defined by the standing register. The partnership's key objectives and deliverable is to support informal trading and decongestion initiatives," he said.
Zvorwadza, said among the benefits which are to accrue to the membership include, structured contracts from State-owned firms and local authorities, housing mortgages as well as employment opportunities.
Meanwhile, Harare mayor Herbert Gomba has directed council to stop all water disconnections in view of the cholera outbreak and approached the mayor's cheer fund board to look at paying fees for children of residents who died of cholera.
"To all citizens, we are on the wheels dealing with this outbreak, be assured all our workers are working overtime, under constant supervision and with the required instructions and instruments. To ratepayers and leaseholders, please continue to meet your bill obligations to ensure we transform this city," Gomba said.