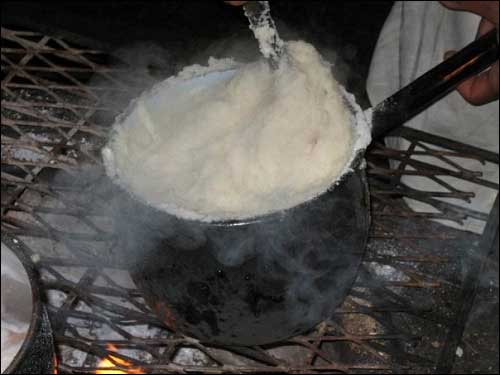 THE harsh economic environment afflicting the country have resulted in many people in Harare turning to backyard catering services to earn a living.
BY TAFADZWA MUTACHA
The backyard food outlets have been recording roaring business with meals pegged from as little as 50 cents to $1 a plate, attracting many customer that can only afford to part with a little for a plate of the staple sadza — which usually comes with a variety of relish, including beef, chicken, pork and offals.
Against a grim backdrop of soaring prices of basic commodities, the food vendors have been counting the dollars regardless of efforts by the local authority to clampdown on unregistered backyard food outlets and vendors.
A snap survey in the city centre revealed women carrying plastic food containers and strategically positioned in the streets to attract customers.
There have been concerns that some of the meat, particularly from those selling a plate of food at 50c, could have been sourced from condemned cattle and chicken carcasses. Harare City Council spokesperson Michael Chideme said the city was working at stamping out the unlicenced backyard food outlets.
"We are well aware of these backyard food outlets as council and we are dealing with them. Some of them are not registered and licensed. This is not good for business in Harare. For them to be operational, they have to register and be licensed," he said.
The backyard outlets have been accused of operating in largely unhygienic surroundings with the majority of clients being touts, kombi drivers, lowly-paid shop attendants and vendors plying their trade in the city.
Some of the backyard food outlets and food vending places are dusty and filthy with no proper ablution facilities and running water. Plates run through dirty dishwasher, food is then served on dirty food surfaces that would have been cleaned by spongy and greasy pieces of cloth. The cooks also use greasy kitchen equipment.
According to one of the operators who declined to be named, they have reduced their meal portions to accommodate those who could not afford a $1 meal daily.
"We are now reducing our portions and this hasn't gone well with our clientele. They are complaining about it, but we have no option," he said.
There are increased fears that such outlets could spur the spread of diseases such as cholera, which has already been reported in some parts of Harare.
A cook at one of the backyard food outlets along Robert Mugabe Way who identified herself as Sylvia told NewsDay Weekender that they had proper suppliers for their meat as they could not risk contracting anyone to provide the meat given the sensitivity around issues of food.
"The police constantly make routine checks of our records to establish our suppliers. We have specific butcheries that supply us with meat. We sometimes have people who come in saying they supply meat but we always treat them with suspicion," she said.
"They might be selling meat affected by foot-and-mouth disease, so we stick to our suppliers."
Silvia claimed that "hit-and-run" food vendors who only come to sell meals in the CBD at night for 50 cents a plate were most likely the ones selling contaminated meat as they had no established catering businesses.
"At night, especially at corner Rezende and Robert Mugabe, we see women with buckets and pots in the evening and they sell their food for 50 cents a plate. Those could be the ones selling meat affected by foot-and-mouth disease," she said.
There were recent reports of foot-and-mouth outbreak in Mashonaland Central province's eight districts suspected to have originated from Mozambique.
Provincial veterinary officer Wiltmot Chikurunhe said Rushinga and Muzarabani districts were the worst affected.
"The province's eight districts are affected by foot-and-mouth. It entered Zimbabwe on June 25 this year from Mozambique and places close to Mozambique, that is Rushinga and Muzarabani are the most affected," Chikurunhe said.
The department has placed all districts under quarantine and stopped the movement of livestock due to the outbreak.