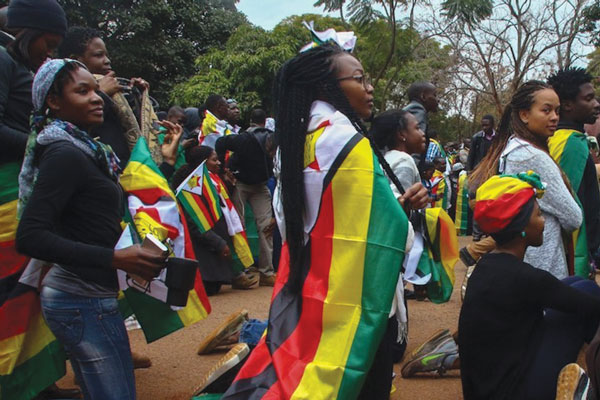 IT is just after 6pm in the city centre and human traffic is at its peak as pedestrians race to conclude a gruesome day of socio-economic activities.
For most mobile vendors this is time to be milling at strategic points marketing their wares for last-minute sales, but Christopher Nyathi (33) is seated outside the Eastgate Mall puffing on a cigarette plucked from his tray of stock also consisting of sweets and airtime.
Nyathi crossed the Limpopo back into Zimbabwe last December after a stint in South Africa following encouraging testaments from countrymen that life was taking a positive course after Robert Mugabe's historic ouster through a coup.
However, he is beginning to regret the rush decision fuelled by unsubstantiated political promises from the much touted new dispensation.
"All this time I was in South Africa because there were situations I had endured which were not conducive in my country of birth so I left," he said.
Eight months later, the father of one, who skipped rural Gokwe to scrounge for a living in Harare hopes that the re-installed Zanu PF administration will map a way out of the socio-economic quagmire he is mired in.
He would have preferred a totally new pair of political hands because even in Mugabe's absence he feels like the current leadership is old wine in new bottles.
But a personal attempt to define his future by adding a voice in politics through voting during this past election season was denied as he could not get an ID in time to beat the registration deadline.
It does not bother him much anymore as he is somehow convinced the single vote would not have changed the status quo anyways because of the alleged rigging.
Nyathi's story resonates with that of thousands other young people especially in urban areas who feel let down by the outcome of the elections and subsequent Constitutional Court ruling which re-declared President Emmerson Mnangagwa as the winner after an MDC-Alliance petition.
Publicised as a "youth vote" the 2018 harmonized polls witnessed an influx of young registrants who constituted above two thirds of the total.
According to Zimbabwe Electoral Commission (Zec) statistics at one point, youths between the ages of 18 to 34 constituted 43,5% of registered voters, followed by the 35 to 59 age group who make up 42,9% of registered voters while those 60 years and above accounted for 13,6% of registered voters.
Ultimately about 60% of registered voters were aged between 18 and 40 years which was a glaring contrast to trends in previous elections where the youth — going by the national definition of people aged 16 to 35 – did not vote, with a majority having not registered entirely.
In essence, youth participation shot dramatically during this election cycle as a result of renewed political leadership across the board and a belief that there was an overhaul of the electoral system.
However, after the elections, the reality has been altered significantly among sympathisers of both Zanu PF and the MDC Alliance parties, which garnered more than two million votes apiece, on whether the process was credible or free of prejudice.
MDC Alliance's unrelenting quest to overturn the outcome means that this division will linger on in what threatens youth participation and ultimately democracy in the future.
"After the November incident most youths believed in a possible change, and in the power of their voice (and) this led to a significant number voting on the Election Day," says Hope Marozwa a student leader who contributed in lobbying youths to participate in the elections.
A peep at Research and Advocacy Unit statistics of 2013 harmonised elections shows that 1 930 743 eligible voters between the ages of 18 and 30 were not registered and the figure constituted roughly 54% of the total youth vote at the time.
Civic society and opposition political parties went through a torrid time to convince the bulging youth electorate that their vote would count this time.
They battled with the paranoia that "what will my vote change because elections are always rigged", which appears to be resurfacing if random comments in the streets or online are anything to go by.
This phenomenon is throwing spanners into all the hard work according to Marozwa.
"The alleged rigging, intimidation and deaths that followed the election have reversed all the work and efforts that have been made to push for improved youth participation," she said.
"Most youths have lost hope and fear an economic meltdown while some are still excited about the whole issue and are still pushing to defend their political beliefs different they may be."
Her assertion confirms a snap survey from random youth on the streets of Harare that painted a gloomy picture of mistrust in how the polls were handled.
"I voted just like everyone else (but) the numbers being said to have voted for Zanu PF in rural areas are the ones raising eyebrows but I guess politics is for politicians not us the ordinary," said a visibly dejected Kumbirai Mandivenga (25).
Mandivenga, an electrical appliance vendor along Robert Mugabe Street, is a first-time voter, whose interest in elections and politics in general has faded in similar fashion as the voter marking ink on his pinkie finger.
"It was my first time but now I am convinced things will not change that easily. If they want us to vote again we might do that but even if we do, there is nothing we can change," he said.
Addressing journalists at a press briefing recently MDC Alliance leader remained defiant leveraging on his largely urban vote to maintain his deviation despite the contentious ConCourt ruling.
"We have a disputed election, a legitimacy issue and a constitutional crisis around the elections in Zimbabwe," said Chamisa.
"We felt we needed to exhaust all the available constitutional remedies within the confines and dictates of peace.
"The legal route has led us to a dead end in the context of the result of that court, which does not accord with the legitimate case we put before the court."
Chamisa, who got 44,3% of the vote against Mnangagwa's 50,6%, has taken the issue up to the African Commission for Human and People's Rights (ACHPR) with little prospects among most of his followers.
Phineas Chamunorwa (28), a money-changer, believes taking the matter to ConCourt was a waste of time and the opposition had let down its people by not enforcing the touted "anti-rigging mechanisms".
"Chamisa knows he lost and this issue of pushing the matter to court was just preparing himself for the next elections and he is giving the youth false hope that when they vote for him in their numbers next time he will win," he said adding that he was disappointed by the opposition.
"They made a mistake from the onset and I was shocked to hear that they failed to field council and parliamentary candidates in places like Chiredzi, they might have lost but having fielded it would have been better because those people would campaign for the alliance."
Since the turn of the millennium virtually all election outcomes have been contested by the opposition and consequently this has nurtured voter apathy owing to both fear and lack of faith in the electoral systems.
Zimbabwe is characterised by a largely youthful population and it is this constituency that influences most aspects of like in the country.
Until a time that either MDC Alliance proves the claimed foul play, although the possibilities are more deem now more than ever, or Zanu PF miraculously earns legitimacy then future youth participation remains in limbo, spelling a huge blow for democracy.