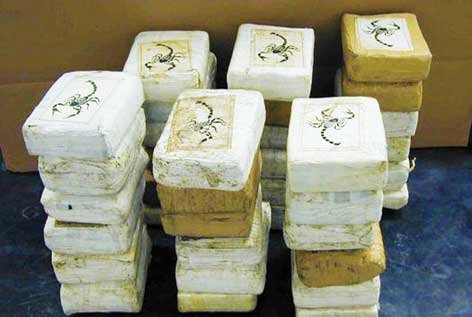 A SUSPECTED Peruvian drug trafficker has been arrested at the Robert Gabriel Mugabe International Airport after he was found in possession of over a kilogramme of cocaine worth $91 520.
BY DESMOND CHINGARANDE
Wilmer Taruzona Aro (32) was not asked to plead when he appeared before magistrate Rumbidzai Mugwagwa who remanded him in custody to October 6 for bail application.
The State sought a long remand for Aro before bail application to allow it to seek a Spanish interpreter after the accused advised the court that he did not understand English.
The State also wants to verify his criminal record with Interpol, Harare, as they suspected Aro to be an international criminal who traffics drugs from country to country as evidenced by his passport which has stamps from a source country of hard drugs, Brazil.
It is the State's case that detectives from Drugs and Narcotics, stationed at the airport, received information that a male Peruvian national was coming from Brazil aboard United Arab Emirates flight number EK 713.
The State alleges that Aro was suspected to be in possession of dangerous drugs.
As the flight landed at around 5pm, Aro went through verification with Immigration before picking his two suitcases and headed for the green route exit point where he was intercepted by detectives.
It is alleged searches were conducted by detectives, who discovered a whitish substance concealed in the holes of Aro's suitcases' handle rails.
A field test analysis was carried out on the whitish substance and it tested positive to cocaine, with a weight of 1,144 kilogrammes and a street value of $91 520. Francisca Mukumbiri appeared for the State.