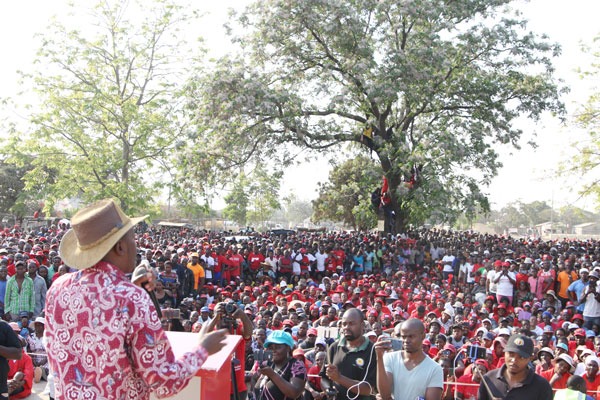 A NATIONAL Patriotic Party (NPP) top official, who quit the Joice Mujuru-led party on Tuesday, has rejoined the MDC-T led by Nelson Chamisa, while his counterpart has hung his boots as resignations that rocked the former Vice-President's opposition party threaten its existence.
BY TATENDA CHITAGU/SILAS NKALA
Jeffreyson Chitando, who was NPP spokesperson, has retraced his footsteps to the labour-backed party, while Samuel Sipepa Nkomo, who was Mujuru's deputy, retired from politics. Chitando, a former MDC-T national executive member, left the party as part of a rebellion against the late Morgan Tsvangirai in 2015.
"It is true, I have resigned, just like many of the pillars of the party like national chair, Dzikamai Mavhaire, and the Masvingo and Matabeleland North provincial executives of NPP and others from several provinces," Chitando said.
Philani Gama, Obert Manduna, David Moyo, Mongiwa Kabelo Moyo, Nkosinathi Hove Mpofu, Mkhululi Mafusi and eight other officials from Matabeleland North province have also left the NPP.
Chitando, former MP for Masvingo Central, said he had rejoined a party that gave him prominence.
Chamisa yesterday posted a picture on microblogging site Twitter with Nkomo and Chitando at the party headquarters.
"Growing stronger, bigger and better … with VP [Elias] Mudzuri and [Morgen] Komichi at Morgan Tsvangirai House, party headquarters welcoming former NPP leaders VP Sipepa Nkomo, spokesperson Jeffreyson Chitando and others who are coming to join the party of excellence, the MDC," Chamisa wrote.
Chitando said the disgruntlement with Mujuru arose from her refusal to implement a standing committee resolution that compelled her to join the MDC Alliance before the July 30 elections to form a united front against Zanu PF.
NPP did not win a single National Assembly seat, while Mujuru performed dismally in the presidential poll as part of the People's Rainbow Coalition.
Nkomo said he wanted to concentrate on Seventh Day Adventist Church activities and intended to write a book about his political life which spans 58 years.
"Last Friday at the meeting of the working committee of the top nine leadership, I gave notice of my intention to retire from politics," Nkomo said, adding that he had not re-joined the MDC. "So I was simply going to announce my retirement."
He said the NPP leadership was to blame for its poor showing in the polls.
"I do also feel as one of the top six leadership of the organisation responsible for the dismal loss of the party, it's only reasonable that it coincided with my resignation because I have to take responsibility of the loss," Nkomo said. Mavhaire could not be reached to comment as his cellphone was off.