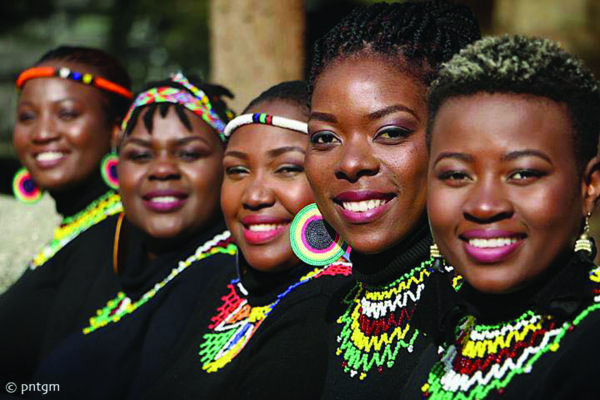 BULAWAYO'S all-female ensemble, Nobuntu yesterday officially launched the Nobuntu Pad Bank at Indlovu Youth Centre in Tshabalala and Sizinda.
BY SHARON SIBINDI
The initiative comes after the group successfully held its Charity Concert Nobuntu Pad Bank Show last month, which was aimed at establishing pad banks for use by female artistes doing rehearsals at various youths centres in Bulawayo.
Lady Tshawe, who spoke on behalf of Nobuntu, said it was a great pleasure to host the event in the group's birthplace.
"It is with great pleasure to host this event in what we consider our birthplace here at Indlovu and also at Sizinda. These youth centres played a very pivotal role in building the brand that is Nobuntu today. We cannot afford to forget where we come from, we cannot afford to neglect our mothers, fathers, brothers and sisters," she said.
Lady Tshawe said they decided to give back to the community which played a pivotal role in moulding them.
"As a female group we saw the need to set up an initiative that will see the needs of our sisters in the community met. Nobuntu has seen it fit to join the pad drive through advocating and donating sanitary pads to underprivileged girls," she said.
"The plight of young women and girls' access to sanitary pads is a national yet overlooked issue."
She expressed gratitude to various stakeholders who supported the initiative.
"As part of Nobuntu's Ubuntu sisterhood initiatives, the sanitary pads drive is one of the most pivotal parts of the programme, as its objective is to contribute towards creating easy access to sanitary ware for the underprivileged girl child," Lady Tshawe said.
"Ubuntu sisterhood is the name we adopted because we are sisters that have grown in Ubuntu and we'd love to express that in everything we do and everyone we meet. We would love to radiate that to each and everyone around us."
Indlovu Centre recreation leader Chelesile Dladla and chairperson for the parents association John Moyo said they were pleased with the initiative and encouraged other youth members to utilise the youth centre so as to cultivate their different talents.