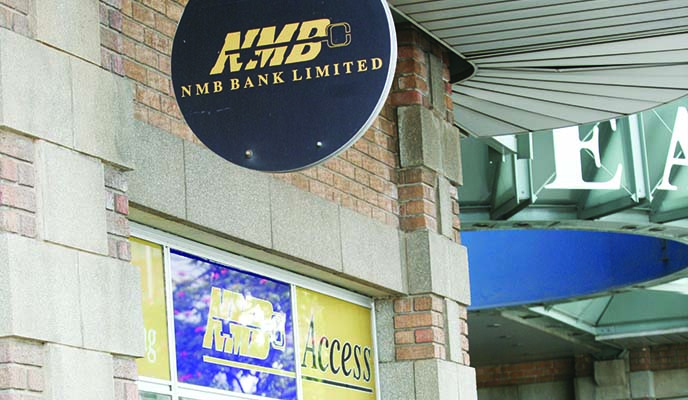 NMB BANK says it will broaden its target market to the "mass market, previously not catered for" by the institution and help boost financial inclusion in the country.
BY FIDELITY MHLANGA
In line with that strategy, the lender also revealed plans to "accelerate" the roll-out of POS machines and enhance all its e-channels.
NMB has traditionally focused on the middle to upper end of the market.
Zimbabwe's middle class has, however, undergone gradual decomposition due to slow private sector growth and increased economic informality.
Profit-after-tax by the bank more than doubled to $9 million in the first half to June 30 2018 from $3,5 million recorded during the same period last year on the back of enhanced use of digital platforms and strict underwriting standards.
Net operating profit before impairment charge rose to $13,2 million from $5,7 million last year.
Net interest income also surged to $14,6 million from $10,6 million, while operating income ballooned to 29,9 million from 19,3 million during the period under review.
"The financial results were largely driven by the banking subsidiary's continued expansion into the broader market segment, enhanced use of the bank's digital platforms, stricter credit underwriting standards and concerted efforts to contain non-performing loans and operating costs," the group said in the half-year financial report.
Total deposits increased by 4% to $364,58 million as at June 30 2018 from $348,96 million as at 31 December 2017.
Gross loans and advances increased by 12% from $211 million as at December 2017 to $236,3 million by end of June 2018 due to increased uptake of the bank's mortgage facilities, corporates and individuals loan facilities.
Total assets for the group climbed 4% to $441,57 million as at June 30 2018 from $422,56 million as at December 31 2017. The growth in assets was attributed to a 33% increase in property and equipment as well as an 8% increase in both investment securities and loans, advances and other accounts. The bank said these increases were partly offset by a decrease in cash and cash equivalents of 10%.
The bank reported that it was in a drive to reduce non-performing loans and this saw the NPL ratio reduced to 6,1% from 10,7 % during the period under review.
Impairment losses on loans and advances amounted to $1,4 million for the current period from a prior year amount of $878 304 mainly due to the adoption of IFRS 9 with effect from January 2018.
The bank said it was capitalised to the tune of $65,9 million against the regulatory requirement of $25 million. At 42%, its liquidity ratio was also above the statutory threshold of 30%.