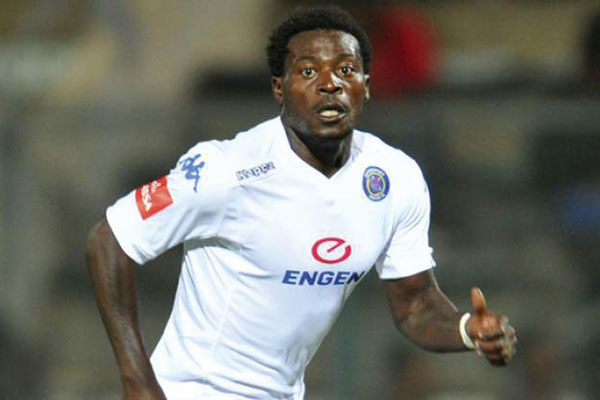 DYNAMOS striker Kingstone Nkhatha is yet to receive his registration papers to enable him to feature in the Castle Lager Premier Soccer League, making him a major doubt for the blockbuster clash against Highlanders at Barbourfields Stadium on Sunday.
BY HENRY MHARA
Club manager Richard Chihoro said the striker, who joined from SuperSport over a month ago, had by yesterday not received the international transfer clearance from the South African Football Association to be eligible to play at the weekend
"We have been waiting for the documents since Monday, but nothing has come through. We are keeping our fingers crossed, and we hope the papers will be here before our next league match," he said.
Nkhatha joined the Harare giants as a free agent, but his clearance papers from his former club arrived after closure of the transfer window on July 31.
According to the rules governing player transfers, in particular free agents as is the case with Nkhatha, a player can only be eligible to play after a lapse of a 30-day period if his clearance from his former club comes when the transfer window has shut.
Reasons for the hold-up were not clear, but the DeMbare bench has been preparing for the match with Nkhatha in mind, and assistant coach Joseph Takaringofa, who will hold fort in the absence of head coach Lloyd Mutasa who is away with the national team, is confident that the big striker will be available.
"It's a big boost for us, he is an experienced player and he is going to give us some goals," Takaringofa said.
While Nkhatha is doubtful, there is no such uncertainty on the availability of defender Marshall Machazane, who will certainly miss the trip due to suspension.
The two teams will be fighting for scraps as they are already out of the title race, but Takaringofa reckons that this clash retains its allure of the past.
"We are both not fighting for the title, but it remains a very big match, if not the biggest in the league calendar. Whether it's a friendly match or not, a match between Highlanders and Dynamos remains a very important one for the two teams. It's an opportunity for players to make a name for themselves. These are the kinds of matches that build profiles for players," the DeMbare assistant mentor said.
"Beating Highlanders means a lot, if not everything for us. There is a lot at stake. Besides the three points, there are also bragging rights to play for. It's a grudge match, and the tension in the field of play and even on the stands would be massive. We have been reminding the players all that this week, and they are well aware of it."
Highlanders have been on a rebuilding exercise under Madinda Ndlovu this term, who has introduced young blood in the squad.
As expected, the inexperienced squad has been blowing hot and cold this season.
"They have a youthful squad this season, but that makes them even more dangerous. Those youngsters have a point to prove, so we will treat them the same way that we would have approached any other Highlanders squad. We are going there to collect three points, to compete and give our best," Takaringofa said.
The two teams are going into the match on the back of contrasting fortunes.
Dynamos will be high on confidence as they are unbeaten in the last three matches, winning two, while Highlanders are winless in the last three games, losing two.